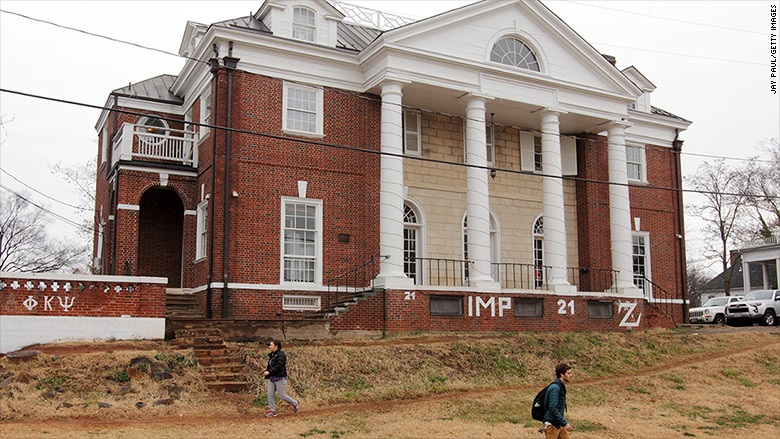 The University of Virginia fraternity at the center of Rolling Stone's discredited "Rape on Campus" story has filed a multi-million dollar lawsuit against the magazine.
In a statement on Monday, the Virginia chapter of Phi Kappa Psi said that it is seeking $25 million in damages in its defamation suit against Rolling Stone.
"The fraternity chapter and its student and alumni members suffered extreme damage to their reputations in the aftermath of the article's publication and continue to suffer despite the ultimate unraveling of the story," the fraternity said in the statement.
"Innocent brothers were besieged in their residence, physically threatened, protested against and vilified by unknown assailants, fellow students and the university community," the suit claims. "Impacts of the article were felt well beyond the University of Virginia and Charlottesville."
Related: Rolling Stone editor to leave in wake of bungled rape story
The fraternity said that it is suing both Rolling Stone and Sabrina Rubin Erdely, the author of the story. The lawsuit argues that the magazine and author "deliberately ignored known facts and readily pursuable leads that, if acknowledge or pursued, would have shown that the allegations of ritualized brutal gang rape were fabricated."
"Rolling Stone published the article with reckless disregard for the truth," Phi Kappa Psi said in its statement.
Rolling Stone declined to comment.
The lawsuit follows similar legal action against the magazine from three former members of Phi Kappa Psi and a UVa. administrator. Associate dean of students Nicole Eramo is seeking at least $7.5 million. The three students did not specify the amount of damages they are seeking.
Related: UVA dean files defamation lawsuit against Rolling Stone
Related: Rolling Stone sued by UVA frat members over bogus rape story
Those plaintiffs are all suing Rolling Stone over the way they were portrayed in the 2014 story, which detailed a gang rape that allegedly took place at the UVa. fraternity.
The story ignited a national firestorm both over the graphic nature of the alleged assault and what appeared to be a callous response from the university. Shortly after it was published, UVa.'s president suspended all campus fraternities and sororities.
But the story unraveled as questions arose over the credibility of the alleged victim, identified in the story only as "Jackie," as well as Rolling Stone's reporting. Police in Charlottesville, Virginia, ultimately found "no substantive basis" to support Jackie's claim to have been raped at the Phi Kappa Psi house.
Rolling Stone commissioned Columbia Journalism School to conduct an investigation of the story, a probe that uncovered numerous flaws in Erdely's reporting and the magazine's editing process.
Sign up for the Reliable Sources newsletter — delivering the most important stories in the media world to your inbox every day.