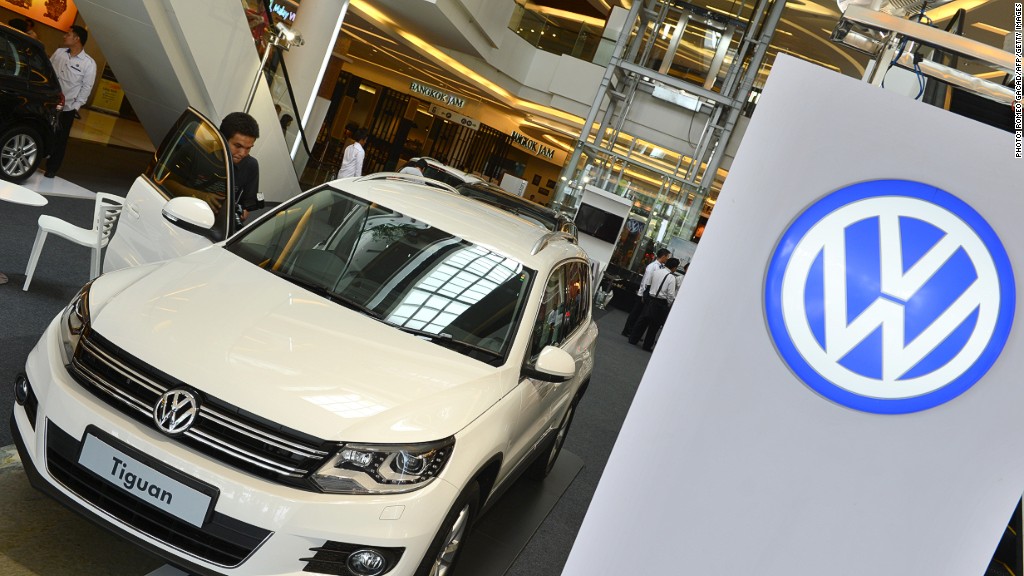 After apologizing for two months, Volkswagen is finally putting its money where its mouth is, forking over $500 to VW car owners hit by its emissions cheating scandal.
But for many owners, the gesture is too little, too late.
"I personally feel insulted by their peace offering," said Nevada resident Dave Thompson, who owns a 2010 diesel Jetta sportswagon. He said buyers paid a $5,000 premium to get the diesel engine and the better fuel economy with the promise that it was also good for the environment.
"That trust is gone," he said.
Other angry VW owners who wrote to CNNMoney used terms like "slap in the face" and "scandalous" to describe the apologetic payout, which will come in the form of a gift card that can be used anywhere.
Diesel owners will also get another card worth $500 that can be spent only on purchases or services at VW or Audi dealerships, as well as free 24-hour roadside assistance for the next three years.
It's the first time that people who own or lease the diesel cars have been compensated by the VW, which admitted in mid-September that its cars used software designed to cheat emissions tests.
"We are providing this goodwill package as a first step towards regaining our customers' trust," said Michael Horn, the head of VW's U.S. operations.
"The cash program announced today by Volkswagen appears to be a goodwill gesture and nothing more," New York attorney general Eric Schneiderman said in a statement on Monday.
"It in no way diminishes the seriousness of the deceptive practices and environmental harms that are the subject of the states' investigation," he said, announcing that his office had joined the attorneys general of Connecticut, Massachusetts, Oregon, Tennessee and Washington.
VW is still trying to determine how to fix 500,000 diesel Volkswagens and Audis in the U.S. to bring them into compliance with federal emission rules. But so far it has resisted calls from Congress and by some car owners to repurchase the vehicles from unhappy consumers.
"I believe that if VW really wanted to make things right with their diesel owners...they'd buy back the cars," said Brian Witkin, who owns a 2014 Jetta diesel. He said his dealer claims the car has lost half its original value in the year he's owned it. "I'll never forget them telling me what great resale value the diesels have over the long run," he said.
Some VW owners said they were concerned that any fixes will hurt their fuel economy.
"I bought this car because of good mileage," said Joe Kolash, who owns a 2012 Jetta that gets about 45 mpg. "If I get less than 45 mpg, it absolutely will make me unhappy and the $500 doesn't help me," he said.
VW insists the offer comes with no strings attached.
"Affected customers eligible for the goodwill package are not required to sign a release...in order to receive the package," said VW spokeswoman Jeannine Ginivan.
Related: Five scary numbers about Volkswagen scandal
The company says about 11 million cars worldwide have the deceptive software, but this offer is only for U.S. customers.
The gesture will cost Volkswagen nearly $250 million -- a fraction of what the automaker has warned investors the scandal will costs. It said in September it had set aside $7.3 billion to deal with fixing the problem, which caused the company to report a third quarter loss.
Last week it admitted that it also it understated the fuel mileage and carbon dioxide emissions for another group of diesel cars, which it said would cost about it another $2.2 billion. It also faces more than $18 billion in fines from U.S. regulators for violating the Clean Air Act.
Related: Volkswagen scandal...in two minutes
Customers eligible for the VW payment are owners of the diesel cars that were initially cited by the EPA. Owners of Volkswagen diesels can go to a company web site to see if their car qualifies for the offer. Owners of the Audi A3, model years 2009-2015, will be compensated with a similar package to be announced soon. Audi is the luxury unit of Volkswagen AG (VLKAY).
But owners of the 3-litre diesel engines which were cited last month by the EPA for also cheating on emissions tests are not eligible for the offer. VW has denied those cars have software meant to deceive emission tests.