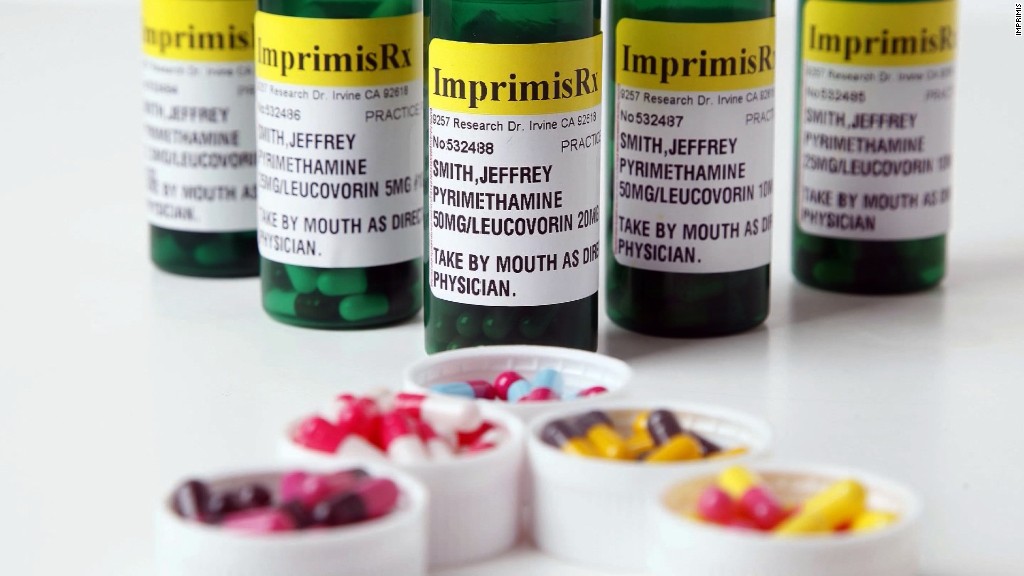 Mark Baum is sick of drug companies treating lifesaving medicines like they're mere objects on a Monopoly board.
Like most Americans, Baum was deeply disturbed when a company called Turing Pharmaceuticals jacked up the price on an old drug used by cancer and AIDs patients by 5,000% overnight.
But unlike most people, Baum was in a position to take action to fix the problem.
Weeks after the price hike created national outrage, Baum unveiled a $1 alternative.
"I reached an ethical and moral boiling point. I didn't want to stand by any longer," Baum, 43, told CNNMoney from the San Diego headquarters of Imprimis Pharmaceuticals (IMMY), which he leads.
The move represented a shot across the bow at Turing and pharmaceutical companies that have lately been been accused of price gouging. All they do, critics say, is dramatically raise the price of price on drugs that have been around for a long time.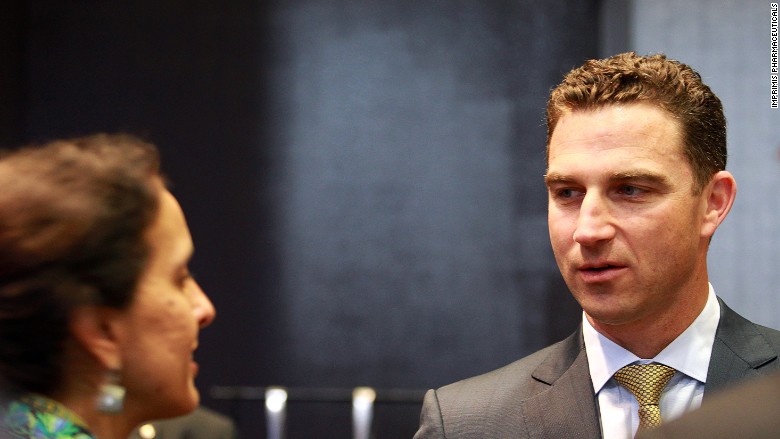 Related: Sticker shock: Drugs with price hikes of up to 1,200%
'Overwhelming' response to $1 drug
Unlike drug makers that invest heavily to create breakthrough treatments, Baum said companies like Turing are not practicing true capitalism. "They're engaging in monopolistic practices," he said, calling their price hikes "absurd."
Daraprim, which is also known by its active ingredient pyrimethamine, is used to treat toxoplasmosis, an infection that can be a major health concern for AIDS and cancer patients who have weakened immune systems. The price on Daraprim shot up to $750 per tablet from just $13.50 after it was acquired by Turing, which is run by former hedge fund manager Martin Shkreli.
Baum declined to disclose specific sales figures, but said the response to the $1 alternative to Daraprim has been "overwhelming."
Imprimis shared with CNNMoney a portion of the outpouring of support it received from users.
"No one expects you to give away pryimethamine for free but it restores my faith in humanity knowing you're willing to sell it at a price those who need it can afford," Michael Ripley wrote in an online message to Imprimis.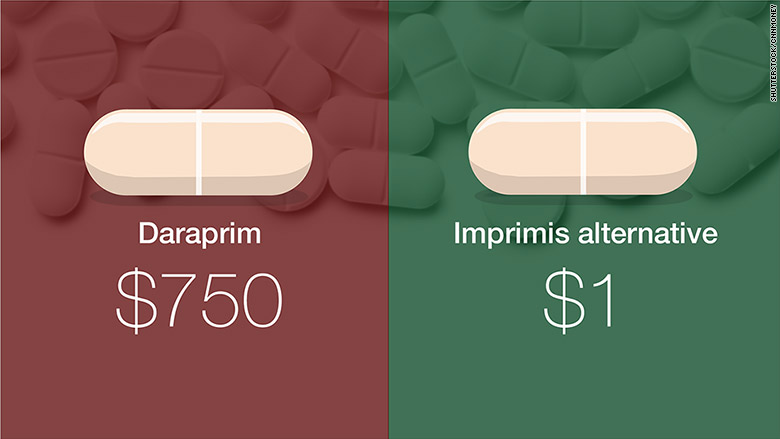 Related: Meet the guy behind the $750 AIDS drug
'How would Martin Shkreli feel?'
Shkreli, the Turing boss who has been dubbed "America's most hated CEO," has shrugged off the Imprimis alternative. He told FOX Business it's merely a "publicity stunt."
"That's insulting to me. But that's okay, I'm a big boy. I can handle it. It's really an insult to the patients we're serving. These are people who are genuinely scared," Baum said.
"How would Martin Shkreli feel if it was his brother or sister or someone he loved who didn't have the means (and) was suffering?" he asked.
Shkreli did not respond to a request from CNNMoney for comment. Last week the U.S. Senate launched an investigation into Turing.
Related: Drug company offers $1 version of $750 lifesaving pill
Imprimis believes in 'ethical capitalism'
Imprimis is not giving away the Daraprim alternative for free. The company is making a profit even at the $1 price, which increases the number of people who can buy it.
"I like to practice ethical capitalism. It's good business to be empathetic towards customers. It makes financial sense in the long run to behave like this," Baum said.
The $1 alternative is what's known in the drug industry as a customizable compound. That means it's a mix of FDA-approved ingredients that are filled to meet individual prescriptions. Current rules prohibit a compounder like Imprimis from actually copying a commercially available drug like Daraprim.
The compounding industry has come under scrutiny over the 2012 meningitis outbreak caused by a Massachusetts compounding pharmacy that led to the death of 64 people.
Baum called the incident a "huge tragedy" and emphasized that Imprimis never compromises quality.
Related: Turing CEO is SO mad at Bernie Sanders
Baum believes Turing and other drug companies like Valeant Pharmaceuticals (VRX)are taking advantage of the current system by raising the prices. He has urged lawmakers to amend FDA regulations that have unintentionally created this problem.
"With a couple of sentences, Martin Shkreli and Turing and all others of their ilk would be gone," Baum said.
Of course, Baum is hardly an impartial observer. Baum owns a substantial stake in Imprimis, which has a lot to gain from such a legal change.
Related: Valeant denies Enron-like fraud allegations
Baum sets sights beyond Daraprim
But Baum and others argue that unreasonable prescription drug price increases have helped fuel a precipitous rise in American health care costs.
"This is unsustainable," he said.
That's why Imprimis is planning to go beyond Daraprim and offer compounded alternatives to other "absurdly-priced" drugs.
"We're going to show with clean hands how we can make a huge difference for the health care economy," Baum said.