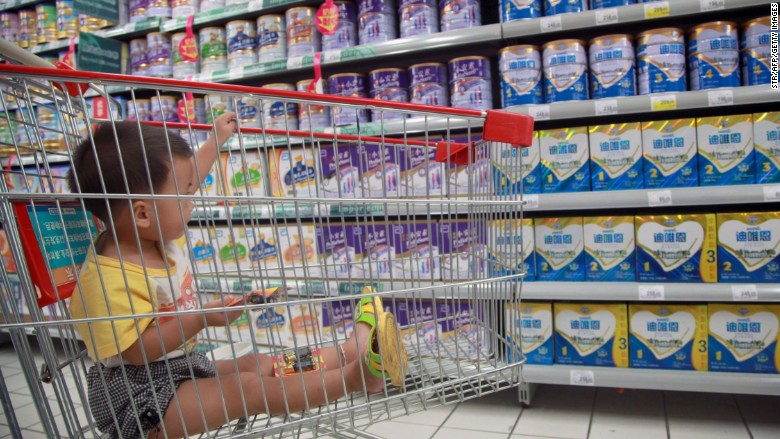 Massive demand from consumers leading up to China's Singles' Day -- the world's biggest shopping day -- has fueled a baby formula shortage in Australia.
In the weeks before Singles' Day -- China's answer to "Cyber Monday" on Nov. 11 -- cans of Bellamy's Organic infant formula started disappearing from store shelves in Australia.
"We have encountered significant activity by some people who like to buy our product here from Australian retailers and on-sell it to consumers in China," the company said in a statement online. "This has contributed to limited stocks of Bellamy's products ... It's a fact that our brand is very popular in China, particularly leading up to 'Singles' Day.'"
China's demand for foreign-produced baby formula has been growing ever since a 2008 tainted baby formula scandal led to a number of deaths and caused hundreds of thousands of others to fall ill.
Bellamy's is a popular brand in China, accounting for about one-third of baby formula sales in the country, according to the company. The company estimates that as much as 40% of its sales in Australia are servicing customer demands in China -- for example, from people who purchase abroad and privately export for resale in China.
It's a lucrative business -- one can of Bellamy's Organic formula costs around $20 in Australia, but sellers on Alibaba's Taobao.com were hawking them for at least double.
The Bellamy's shortage has occurred even though many stores have limited the number of tins consumers can purchase, leading scores of outraged mothers to post a litany of complaints on the company's Facebook page. Bellamy's said it was working to produce more, and expected stock to replenish at the end of the month.
Chinese demand for foreign baby formula has led to shortages elsewhere as well, including the United Kingdom, where retailers have also curbed how much customers can buy.
Singles' Day in China started as a counter-holiday to Valentine's Day, encouraging singles to pamper themselves with some shopping. Now, it's morphed into a giant multi-billion dollar shopping bonanza each year, as more retailers and brands slash prices in efforts to attract shoppers. Consumers buy everything on the day from smartphones to shoes.
Bellamy's rose around 3% in Sydney trading on Wednesday.