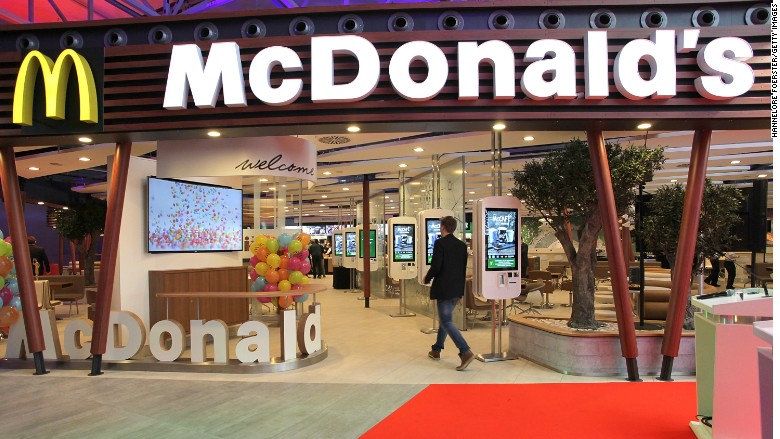 McDonald's won't bow to investors that want the company to spin off its real estate assets.
The company said Tuesday that it won't pursue a REIT, or real estate investment trust.
Many shareholders had hoped McDonald's (MCD) would form a REIT since that would slash the company's tax bill by as much as $1 billion, according to Howard Penney, a restaurant analyst at Hedgeye.
It's a tricky move, however, and it could cause tension with franchise stores that are operated independently rather than by the company. Franchise owners are worried about losing control of the physical locations that they operate.
McDonald's CEO Steve Easterbrook told investors Tuesday that expanding the number of franchise-operated stores will be a key part of the company's strategy moving forward. Eventually, the company wants 95% of McDonald's restaurants to be independently operated.
Currently, about 80% of McDonald's stores are franchises. It has about 36,000 locations in more than 100 countries.
McDonald's also said it plans to boost dividends and stock buybacks in order to return more cash to shareholders. To do that, it will take on about $10 billion in debt.
That increased debt load led Standard & Poor's to downgrade the company's credit rating.
But McDonald's stock was little-changed after the announcement. It's another sign investors have regained confidence in the company.
Just months ago, McDonald's look doomed to surrender to new competitors like Chipotle (CMG) and Shake Shack (SHAK).
But Easterbrook, who took over in March, came with a battle plan. Last month the company reported its U.S. sales grew for the first time in more than a year.
His recent moves have included launching all-day breakfast and announcing plans to bring in higher-quality chicken.
Under the new CEO, McDonald's stock has heated up, climbing 21% year to date.
Related: Fight for $15 stages biggest strike ever
Related: McDonald's tests gourmet burgers
--CNNMoney's Matt Egan contributed to this report