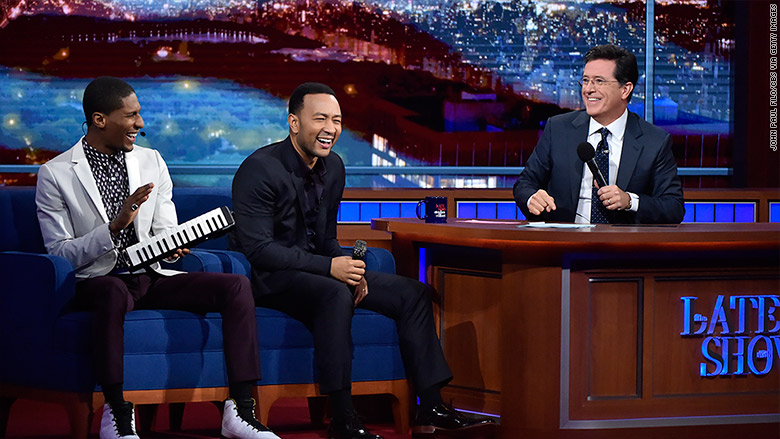 Colbert nation meet NFL nation.
Stephen Colbert's "Late Show" will follow the most watched TV event of the year, Super Bowl 50, on February 7, CBS announced on Wednesday.
This makes "The Late Show" the first late night series to ever air in the post-Super Bowl time slot, estimated to be between 10 pm and 11 pm ET.
Colbert will be followed by "The Late Late Show With James Corden" after the late local news.
The move is a big one for Colbert seeing that the time slot following the Super Bowl is one of the most coveted schedule spots in all of television.
Other series like "Friends," "Survivor," and "The Office" have followed the game to some of their biggest audiences ever.
Placing Colbert after the game will showcase Colbert and his new "Late Show" to a large and possibly new audience.
Related: Stephen Colbert's 'Late Show' lights up late night TV
"It's been a very big year in late night at CBS," Glenn Geller, president of CBS Entertainment said in a statement. "We're extremely proud of our two new late night franchises, and we're thrilled to give Stephen and James this big Super Bowl Sunday showcase."
Since taking over in September, Colbert has, in many ways, revitalized CBS' late night lineup bringing in a larger and mostly younger audience than his predecessor, David Letterman.
Colbert has averaged 3.3 million viewers while his late night counterpart, Corden, has averaged 1.3 million viewers since taking over in March, according to CBS.
Super Bowl 50 will air from Levi's Stadium in Santa Clara, California, on CBS. It will be the network's 19th Super Bowl.
Related: Stephen Colbert's audience is much younger and bigger than Letterman's
Sign up for the Reliable Sources newsletter — delivering the most important stories in the media world to your inbox every day.