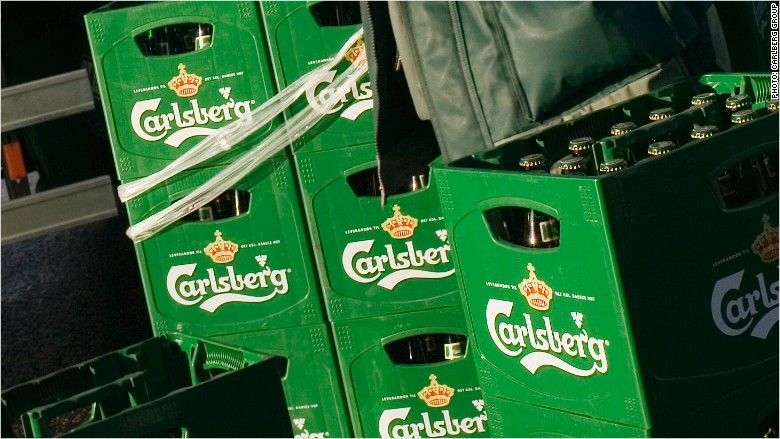 Flat beer markets in Russia and China are giving Carlsberg a headache.
The brewer said Wednesday it would shed 15% of its white collar jobs after reporting a third quarter loss of $650 million. That means 2,000 managers will go.
Investors welcomed the drive to save money, and shares in Carlsberg (CABGY) jumped by 7% in Europe.
Carlsberg's struggles come as the beer industry enters another round of consolidation with giant rivals SABMiller (SBMRF) and Anheuser-Busch InBev (AHBIF) agreeing to merge.
Carlsberg said its global beer volumes fell 4% in the first nine months of 2015. The Danish brewer said inflation is hitting sales hard in Russia.
"We have now concluded that the difficult market challenges [in Russia] will persist for the next few years and, consequently, that the decline of the beer category will continue," Carlsberg said.
The company supplies about 35% of all beer in Russia but has been hurt badly by its economic crisis. It closed two breweries in the country earlier this year, reducing capacity by about 15%.
Related: Russia beer market hits Carlsberg in 2014
A fundamental rethink is also underway in China.
The maker of Carlsberg, Kronenbourg 1664 and Tuborg beers said its business in China has not performed as expected.
Other markets are also proving tricky. In the U.K., Carlsberg is cutting costs and capacity in the face of stiff competition.
Carlsberg said it expected the massive restructuring program to start to show financial benefits in 2017.