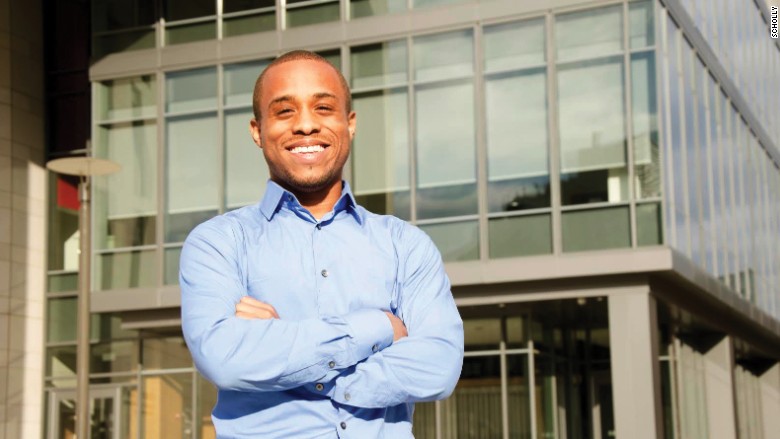 Getting a full ride to your dream college is practically unheard of if you're not a valedictorian who got a perfect score on the SAT.
Even then, your financial aid award could still leave you with a hefty bill to cover. But don't give up hope.
There are thousands of private -- and sometimes obscure -- scholarships out there from companies, nonprofits and community groups. While they may be harder to find and annoying to apply for, there's a good reason to hunt them down (besides getting Mom and Dad off your back).
Ask Christopher Gray, who won more than 35 private scholarships. They helped him go to Drexel University in Philadelphia for free. He graduated last spring and has some funds left over to use for grad school.
To be sure, Gray spent a lot of time applying for hundreds of scholarships. He started during the summer before his senior year of high school. And Gray is no slouch. He got good grades, founded a nonprofit and volunteered.
He also came from a low-income family and received a federal, need-based grant, but that was capped at about $5,500 a year.
"For me, it was either I apply for financial aid or I don't go. Scholarships were my only way out," he told CNNMoney.
Related: College costs $43,921 this year
Since then, he's been on a mission to help others access the often untapped world of private scholarships. In 2014, he launched his own app, called Scholly, which gives you an updated, personal list of scholarships you might be eligible for. It received backing from two investors on the TV show Shark Tank. Students using the app received about $15 million in scholarships this year, Gray said.
Some private scholarships are pretty broad, but others are looking for someone specific. Left-handed? There's a scholarship for that. Passionate about improving Internet speed in rural areas? There's one for that, too.
Related: How one high schooler made $80K (without getting a job)
Some are as small as $500. But others, like one Gray received from Coca-Cola, was for $20,000 a year. Pretty much anyone can apply for that one, which aims to reward those who have made an impact on their community. Gray also received one from the Bill and Melinda Gates Foundation (for low-income minorities) which will pay for higher ed costs not already covered by other grants.
Finding a scholarship to apply for is only part of the battle. Most require you to write at least one essay. Here are some tips from Gray:
Recycle your essays.
This is how Gray was able to apply for hundreds of scholarships -- and why you can, too. After applying for a few, you'll likely find others with similar essay prompts, he said. Tailor the essay for the specific application, but your core content remains the same.
Avoid words like "awesome," "driven" and "motivated."
And while you're at it, don't explain how you "took initiative." Rather than rattle off a list of accomplishments, Gray tried to focus on how the scholarship would impact his life.
Don't be afraid to get creative.
For one essay, Gray wrote a poem. He won that scholarship and the selection committee told him that it really stood out. But don't blatantly ignore directions. Take a creative risk for more general essays.
Take your time.
You can't write an essay in a day. It's a process, so leave time for editing, Gray said. He asked his AP Lit teacher to proofread.
Keep it short.
Try to stay between 250 and 500 words. "That's what worked for me," Gray said.