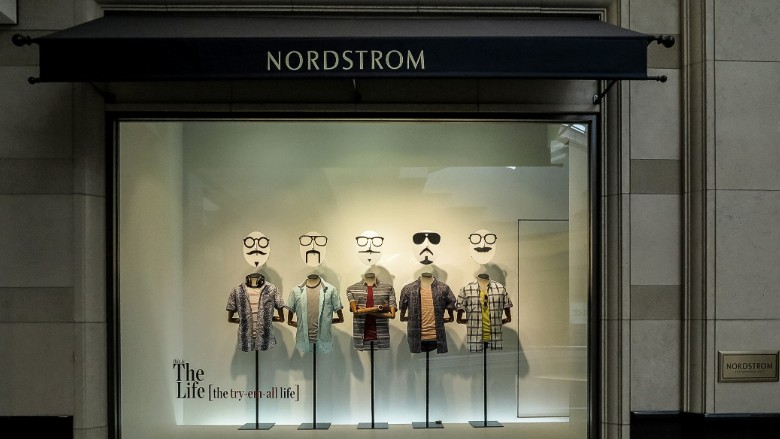 A mysterious sales slowdown has cast a shadow over Nordstrom.
Shares of the upscale department store plummeted 15% on Friday, their worst decline since 2000. The dramatic slide began after Nordstrom (JWN) warned its sales deteriorated late in the summer and things are looking dicey for the holiday season.
Nordstrom's weakness was widespread, but the company struggled to pinpoint why customer traffic decelerated.
"We've seen it across geography. We've seen it whether it's in-store or online. We've seen it by category," Michael Koppel, Nordstrom's chief financial officer, said during a conference call.
Nordstrom said the slowdown began in August and lingered through at least the end of September. It forced the retailer to slash prices in an effort to lure customers.
Analysts peppered Nordstrom execs for what caused the decline.
"We're not economists, we're merchants," said Blake Nordstrom, the company's co-president.
He acknowledged that at a high level, economic barometers "look real positive for the U.S. and the consumer."
"All we can tell you is in our business, we saw a slowdown," Blake Nordstrom said.
Related: Ugly week on Wall Street: Dow tumbles 500 points
Nordstrom now more cautious on holidays
While total sales jumped nearly 7% due to an aggressive expansion campaign, Nordstrom's same-store sales inched up less than 1% during the third quarter.
Deep discounts ate into Nordstrom's profits, which tumbled a lot more than Wall Street had feared.
Nordstrom (JWN) also darkened its outlook for the whole year. It now sees same-store sales rising up to 3%, down from nearly 5% previously.
There has been a "huge downward shift" in Nordstrom's performance and the tone from management since early September, Evercore ISI analyst Omar Saad wrote in a research report.
No wonder Nordstrom shares are now down 34% so far this year.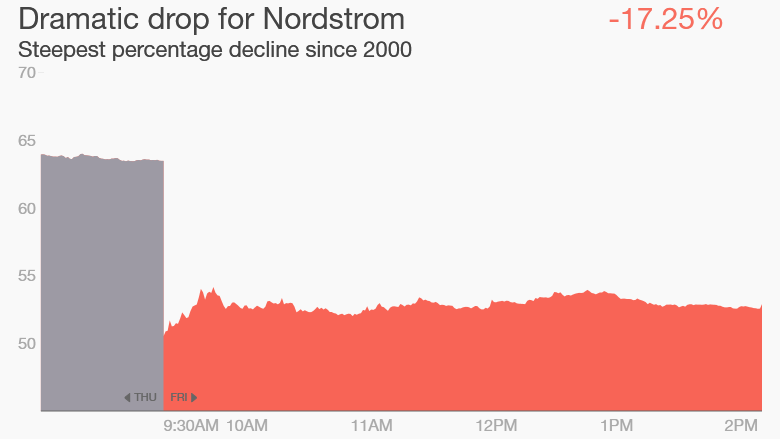 Related: GoPro crashes below IPO price
Broad struggles in retail lately
Of course, Nordstrom is hardly the only retailer stumbling right now. Walmart (WMT) and Macy's (M) have detailed serious problems in their businesses, while struggling brands like Banana Republic face steep competition from fast fashion like H&M.
U.S. retail sales inched up just 0.1% in October, the government said on Friday. That's worse than economists had feared and September sales were also revised down.
Some have pointed to unseasonably warm weather in many parts of the U.S. that have lessened the need for consumers to update their wardrobes.
"The warmer weather during the quarter was extremely unhelpful to sales of fall and winter apparel," wrote Conlumino analyst Carter Harrison.
Related: How Banana Republic is getting killed by fast fashion
Not as bad as Great Recession
The good news is Nordstrom doesn't think its slowdown is reminiscent of what it experienced leading up to the Great Recession.
"This is not as dramatic as what we saw in 2008, 2009," Koppel said.
Tell that to shareholders though. Nordstrom never experienced a one-day plunge the magnitude of Friday's even during those dark years.