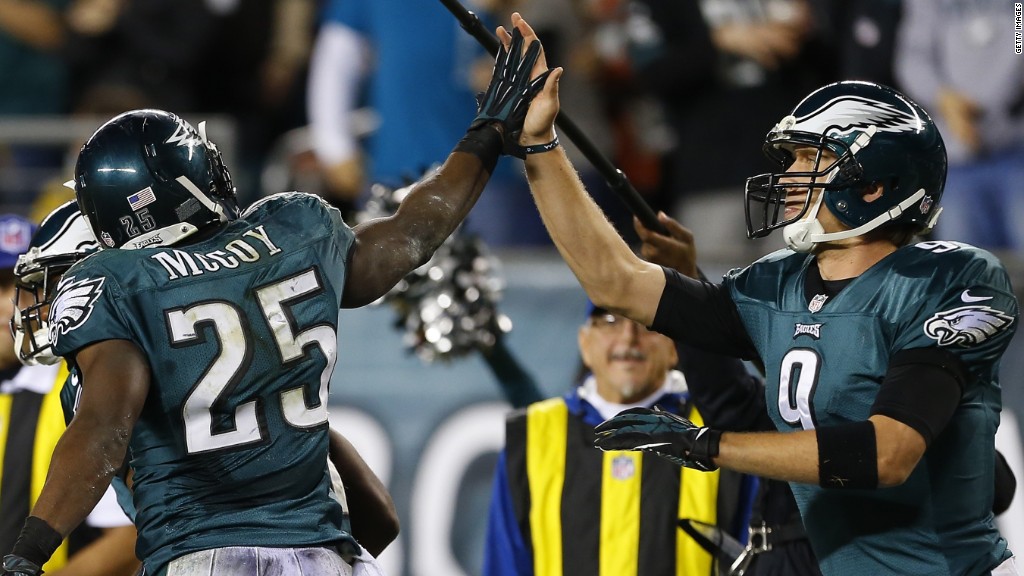 The legal fight over daily fantasy sports is getting ugly.
DraftKings and FanDuel, the embattled companies that dominate the field, are accusing New York's attorney general of trying "to bully" them and hurt their businesses.
The companies have each sued AG Eric Schneiderman to try to stop him from shutting them down.
Schneiderman argues that DraftKings and FanDuel are operating illegal online gambling sites. He has told them to stop doing business in New York by next week and is threatening to go further if they don't.
But the companies are fighting back hard. They say Congress has classified daily fantasy sports as a game of skill -- which is legal -- and not gambling.
FanDuel and DraftKings also claim in their lawsuits that Schneiderman has pressured companies that process customer payments to stop working with them.
According to DraftKings, PayPal (PYPL) and Vantiv were contacted by Schneiderman and threatened with legal action if they continue to service the fantasy gaming site.
According to the suit, Vantiv told DraftKings that it would "imminently" stop working with them.
FanDuel also says Schneiderman pressured payment processors "outside the judicial process to cease providing service" to FanDuel. It says Schneiderman's actions "were intended to immediately disrupt" FanDuel's business in New York.
In fact, on Friday, FanDuel said it had stopped accepting money from players in New York while it seeks "the opportunity to be heard in court."
Schneiderman's ban affects 10% of FanDuel's customers and more than 7% of DraftKings' players in New York, according to the companies.
In response to the lawsuits by the companies, Schneiderman released a statement Friday defending the ban.
"Anyone who asks us about the legality of online sports betting will be told exactly what we wrote in our letters: DraftKings and FanDuel are operating illegal gambling operations," his office said. "It should come as no surprise that companies associated with DraftKings or FanDuel are actively reviewing this matter in the context of business decisions."