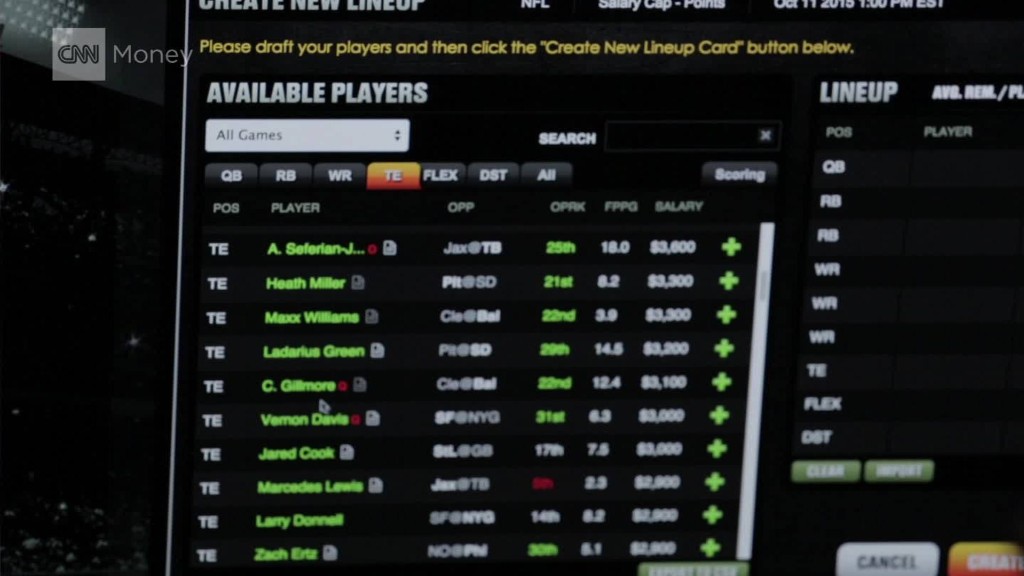 We want to play!
Players of fantasy sports protested Friday outside the office of New York Attorney General Eric Schneiderman, who announced a daily fantasy sports ban in the state earlier this week.
The protest started with more than 300 fans crowding the sidewalk outside of Schneiderman's lower Manhattan office near Wall Street.
Protesters carried signs such as "Bench Schneiderman" and "Schneiderman should focus on real problems." Some held up giant pictures of Schneiderman with "No sports fun New Yorkers" written on them.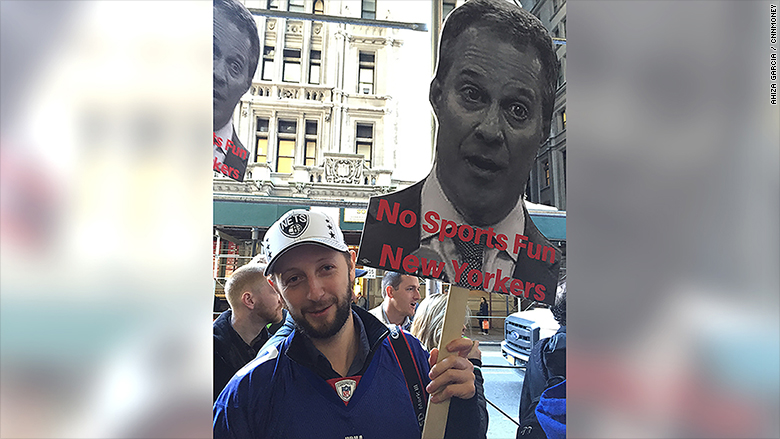 One protester, a software engineer who gave her name only as Nicole, said fantasy sports is a challenge. "I like trying to solve the daily puzzle that it provides," she said.
"But some people do this for a living. They consistently win because they do their research," she said. "We pay taxes, we get 1099s for our winnings. Stop telling us how to spend our money."
The protest was organized by Fantasy Sports For All, a group that was created by leading providers to "protect the rights" of daily fantasy sports players. Some of the protesters were employees of both FanDuel, which is based in New York City, and Boston-based DraftKings.
Jason Robins, the CEO of DraftKings, even tweeted his support for the protesters on Friday.
The rally came four days after Schneiderman ordered FanDuel and DrafKings to stop taking bets in New York. He accused the companies of operating forms of illegal gambling.
"Daily fantasy sports are creating the same public health and economic concerns as other forms of gambling," Schneiderman claimed.
Friday's protest comes ahead of the DFS Players Conference, where 150 fans have paid $600 each to learn tips for winning.
More than 10,000 fans contacted Schneiderman's office to protest his crackdown, according to Nigel Eccles, the CEO of the New York-based FanDuel.
A New York ban would affect roughly 10% of FanDuel users and 7% of DraftKings' customers, according to the companies.
Both companies have sued Schneiderman to try to stop the ban.
Related: Fantasy sports industry forms self-regulatory group
The scrutiny of Daily Fantasy Sports came after a DraftKings employee won $350,000 in a FanDuel game, raising questions about whether he was benefiting from inside information.
DraftKings said an internal probe cleared him of any wrongdoing, but the case brought attention from regulators, federal prosecutors and attorneys general.
While both FanDuel and DraftKings say they do not oppose regulation, they maintain that their sites do not practice gambling and reject such classification.
"The game has been played -- legally -- in New York for years and years, but after the Attorney General realized he could now get himself some press coverage, he decided a game that has been around for a long, long time is suddenly now not legal," FanDuel said in a statement.
Schneiderman's office defended the ban on Friday, reiterating that Daily Fantasy Sports sites are illegal in New York. The office also said it would be taking action to enforce the law.
-- CNNMoney's Chris Isidore and Jackie Wattles contributed to this report.