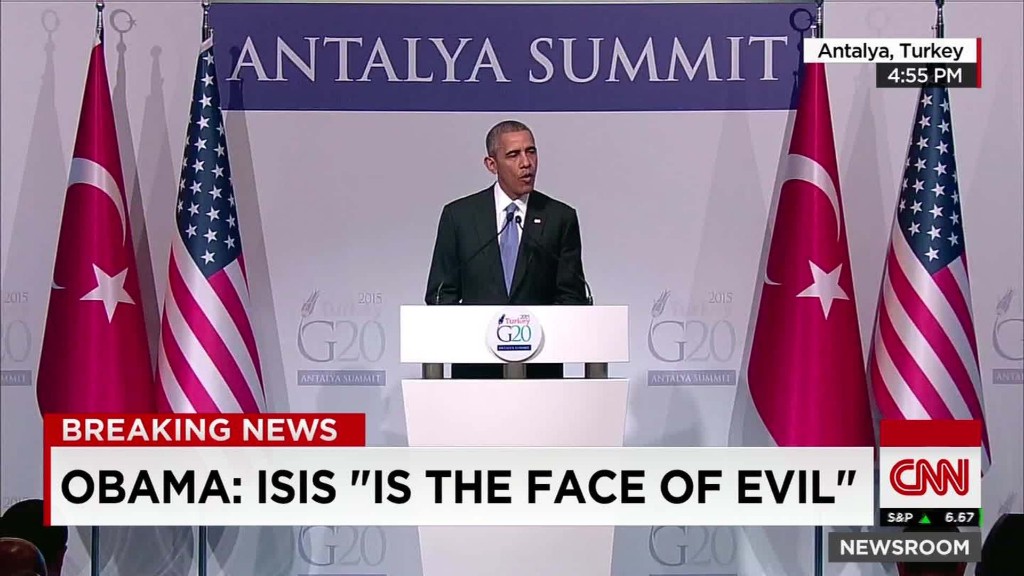 The attacks on Paris pushed the fight against terrorists to the top of the agenda at this weekend's summit of world leaders in Turkey.
In a joint statement, the leaders of the 20 biggest economies condemned terrorism in the wake of the deadly attacks in France on Friday, and in Turkey last month, and vowed to redouble their efforts to close down its sources of finance.
But they also grappled with how to deal with the refugee crisis, slowing global growth and tax evasion.
Here are the five key points of agreement from the G20 summit.
1. Terrorism
The leaders said they would share more information and work more closely together to freeze terrorist assets, criminalize terrorist financing and impose robust sanctions on those involved.
They asked the Financial Action Task Force -- an inter-governmental body fighting money laundering and terrorism financing -- to identify new ways to crack down on funding and to implement targeted sanctions.
Britain hires more spies to fight ISIS
2. Refugee crisis
The G20 pledged to help tackle the refugee crisis stemming from Syria and Iraq, but did not announce any new funding. The leaders urged all states to share the burden by offering to resettle refugees, providing humanitarian assistance and by ensuring "...that refugees can access services, education and livelihood opportunities."
Oxfam said this would give refugees the right to settle, work, go to school and gain access to healthcare, and called the pledge "a bold new deal for refugees." The charity urged countries to act immediately.
Related: Europe wants G20 to help with refugee crisis
3. Global economy
The G20 reaffirmed its pledge to add 2% to global economic growth by 2018. It said it had already delivered a third of that target in the last year by spending more on infrastructure, and through structural reforms to some economies.
But it warned of "risks and uncertainties in financial markets" and said "geopolitical challenges are increasingly becoming a global concern." It noted that world trade had still not returned to the levels seen before the global financial crisis, and promised another "rollback on protectionist measures."
4. Youth unemployment
The group reaffirmed its goal of reducing youth unemployment by 15% by 2025 as part of a strategy to invest in the skills needed for future jobs.
Smarter robots put 50% of jobs at risk
5. Corporate tax
The leaders committed to an "ambitious" plan to reduce tax avoidance by multinational firms. The G20 agreed to implement a detailed package of measures by the Organization for Economic Co-operation and Development to counter international tax avoidance.
This includes greater exchange of information between countries on the tax companies pay. It also calls on countries to make their tax policies more transparent.