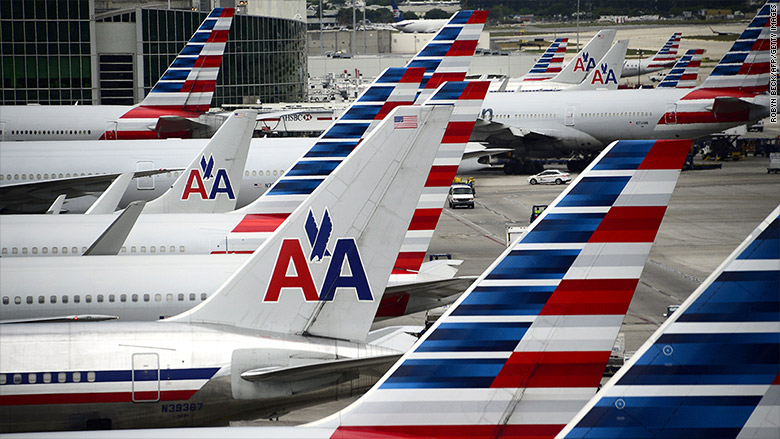 Racking up frequent flyer points with American Airlines will now be based on ticket prices instead of miles traveled, the company said Tuesday.
American (AAL) is the most heavily-used airline in the U.S., and it'll be the last major company to switch its loyalty program to a payment-based model.
The changes offer an advantage to passengers who spend more, but flyers who receive discounted fares or typically travel longer distances may not rack up rewards as quickly as they used to.
Customers who usually take short trips or who pay more for last-minute tickets stand to gain from the new model, according to a report from PwC published in March.
American Airlines spokesperson said it's looking to reward "our most loyal and most valuable customers."
Suzanne Rubin, who heads the AAdvantage program, said the company has spent the past two years consolidating rewards programs after merging with US Airways in 2013. Now, it's looking to "evolve" the program.
United (UAL) announced similar changes last year, joining Delta (DAL), Southwest (LUV), and JetBlue (JBLU) in adopting a price-based rewards program.
American said it's also going to lower the number of reward miles it takes to redeem free flights "by as much as 40 percent" in March next year.
Beginning in the latter half of 2016, members will earn at least five reward "miles" for every dollar they spend on American Airlines or American Eagle flights -- including airline fees, but not taxes.
Rewards will also depend on a customer's AAdvantage status. Basic members will get five miles per dollar while "Executive Platinum" members -- the highest of the four tiers -- will net 11 miles per dollar.
Flying on one of American's partner airlines -- such as Iberia or British Airways -- will still net miles based on distance traveled.
Members will still be able to earn miles by spending on AAdvantage credit cards or enrolling in other bonus mile programs.