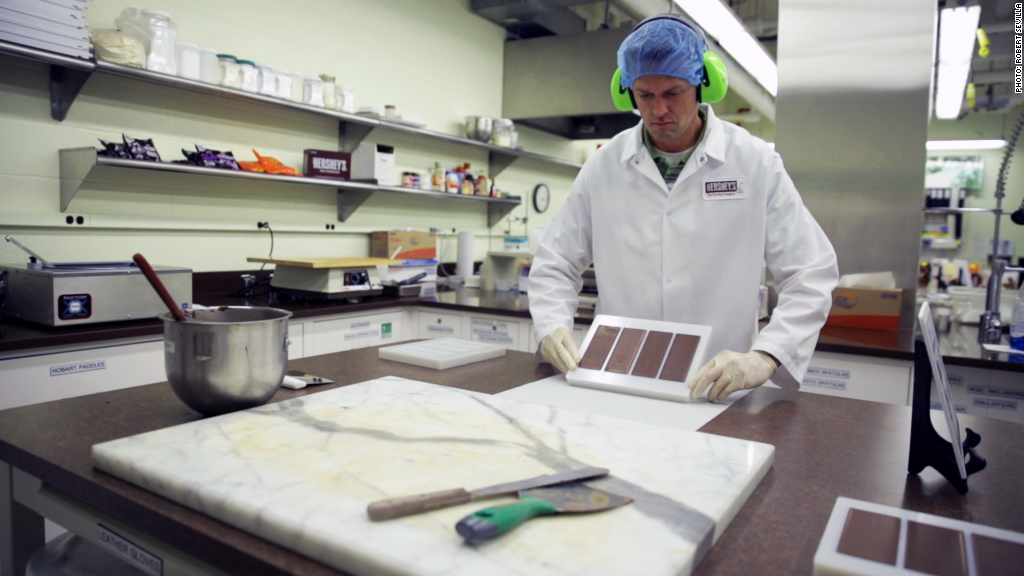 Hershey's Kisses got a make-under.
The chocolate company's new milk chocolate Kisses and bars are now made without artificial ingredients and colors. And they're available in stores.
Last week, The Hershey (HSY) Company announced that the updated version of milk chocolates would roll out in time for the holidays.
"People want to see ingredients that they know and are familiar with in their foods, and we're listening," said Hershey Company VP Mary-Ann Somers.
The move is a return to the company's roots, according to Somers.
"We started making our great-tasting chocolate in 1894 with ingredients you might find in your pantry, like cocoa, milk, sugar and vanilla, and we're continuing that tradition today."
Related: No Kisses for Hershey on National Chocolate Day
In February, Hershey announced it planned to remove artificial ingredients from its products and start using sustainably-sourced, simple ingredients. It also said it would provide clear information about ingredients.
The new line of milk chocolates will be made using fresh milk from local farms in Pennsylvania, cocoa from West Africa, pure cane sugar and "natural flavor."
"There is a growing expectation for companies to provide more transparency about all that goes into their products and we're at the forefront," said Somers.
The move comes as consumers place greater emphasis on more natural ingredients, and Hershey's is one of many companies trying to respond.
Related: Taco Bell switching to cage-free eggs
In November 2013, Kraft (KHC) moved to stop using artificial dyes in some of its macaroni and cheese products in response to customer concerns.
And several fast-food chains have also committed to change.
In 2012, Burger King, which is owned by Restaurant Brands International (QSR), announced it would switch to cage-free eggs over a 5-year period. In May, Pizza Hut and Taco Bell, which are both owned by Yum Brands (YUM), pledged to remove artificial ingredients from their food. And, on Monday, Taco Bell also committed to using only cage free eggs by 2017.
In contrast, Mars, which has faced backlash for using artificial dyes in its candies, says it can't stop using artificial colors "overnight."