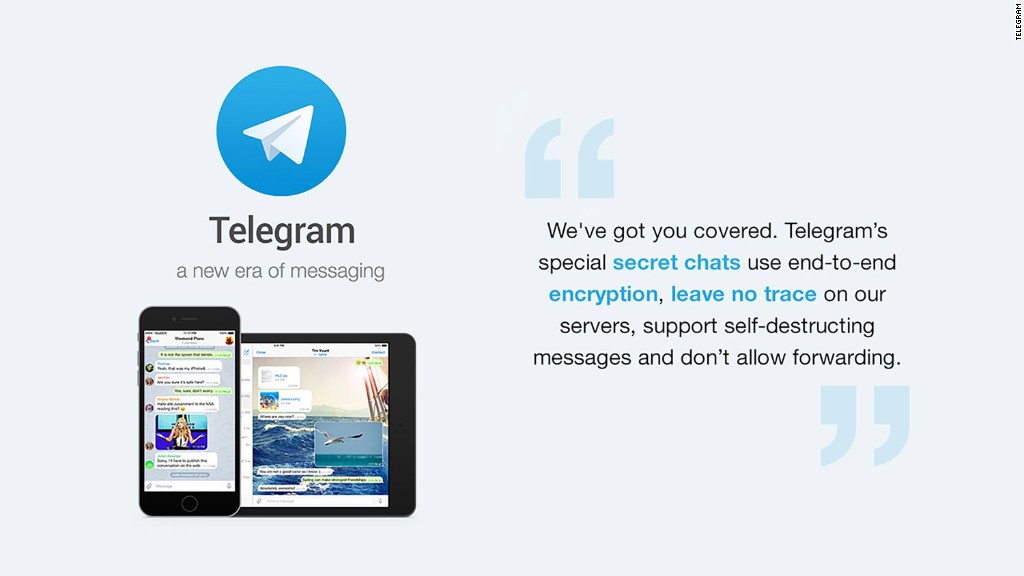 When ISIS terrorists want to hide what they're saying, they are increasingly turning to an app called Telegram.
It's "the new hot thing among jihadists," said Laith Alkhouri, director of Research at Flashpoint Global Partners.
The Berlin-based startup boasts two layers of encryption and claims to be "faster and more secure" than its competitor WhatsApp, which is owned by Facebook.
Users can securely message friends and send pictures and files. They can also create group chats with up to 200 members or opt for "special secret chats" where messages, photos, and videos will self-destruct.
ISIS is also using Telegram to broadcast big messages on the app's "channels," which are devoted to a variety of topics. It was on the official ISIS channel that the group said the Paris attacks would be the "first of the storm."
ISIS also used Telegram to claim responsibility for downing a Russian airplane on October 31.
"A lot of people are now seeing Telegram advertised on ISIS supporter Twitter accounts," said Alkhouri.
He said the official ISIS channel distributes between 10 and 20 ISIS statements and videos a day.
Some terror groups are using Telegram to fundraise. On certain jihadi-related channels, users are asked to donate and pick where their money would go. For example, users can pick out the type of weapons their money would be spent on.
"You can choose whether to donate your money to an AK-47," Alkhouri said.
Because Telegram isn't yet widely known, there's less scrutiny. It launched in 2013 by brothers Nikolai and Pavel Durov, who has been dubbed "the Mark Zuckerberg of Russia."
Pavel Durov created the popular Russian social network Vkontakte, and fled Russia after refusing to hand over user data to the government, according to reporting by the New York Times.
On Telegram's FAQ page, it says profits will never be a goal for the company. The company says it has "quite enough money for the time being."
Telegram is a reaction to what the makers of the app believe are shortcomings of other mainstream networks. "Big Internet companies like Facebook or Google have effectively hijacked the privacy discourse in the recent years," the site says.
A number of startups have popped up looking to make secure, encrypted communication mainstream -- a reaction to the revelations in the Edward Snowden leaks about the NSA's oversight of private communications. But now there's a debate: How much oversight should the government have? And how much privacy can be expected while still ensuring security?
While ISIS members often meet and relay their messages on social networks like Twitter, they often then "go dark," using apps with encryption.
And law enforcement agencies are grappling with the trend.
"Encryption is one of many ways that an adversary, whether that's a criminal, a terrorist, a rogue nation, one of the many ways that they might use to hide their activities," former NSA Deputy Director Chris Inglis, told CNNMoney. "I saw dozens of times -- more than that, likely -- across my career that, in fact, was an obstacle for us."
Telegram did not respond to CNNMoney's request for comment.
In an Instagram post on Tuesday afternoon, Pavel Durov said he showed support for those who lost their lives, though he also pointed blame at the French government: "I join all those who mourn deaths in the most beautiful city of the world. I think the French government is as responsible as ISIS for this, because it is their policies and carelessness which eventually led to the tragedy."