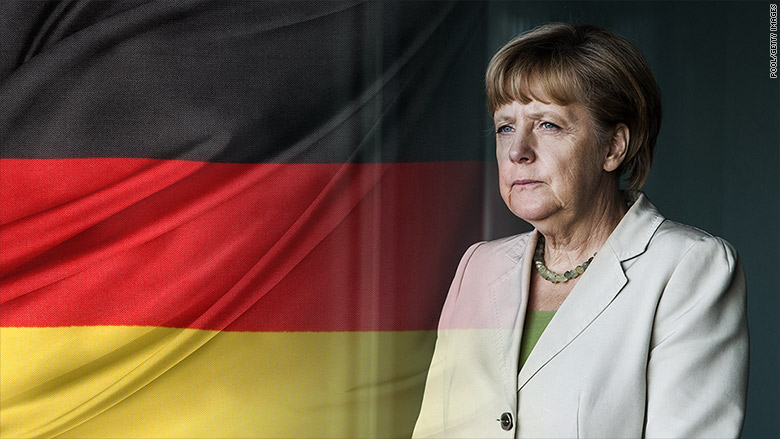 Germany has never been able to borrow money as cheaply as it can now. And the Paris attacks are partly responsible.
Yields on short term bonds -- the return investors get for lending Germany money -- were already negative because of the poor European economic outlook. They sank further to a record low Wednesday as the German government borrowed five billion euros ($5.35 billion) over two years at a yield of minus 0.38%.
Germany is seen as a safe haven in uncertain times, and investors are often quick to buy its bonds in response to political and economic instability. Greater demand for the debt means the government can offer a lower interest rate.
Analysts say the terrorist attacks in Paris raise the chances that the European Central Bank will announce plans next month to buy even more bonds or cut official interest rates again -- which would drive returns for investors even lower -- to boost the economy and inflation.
"The ECB may well see the downside risks to eurozone growth and inflation being magnified by Friday's terrorist attacks in France, that could have some negative near-term impact on economic activity," wrote Howard Archer, chief European economist at IHS Global Insight in a note this week.
French tourism set for short-term pain after Paris attacks
Negative yields means investors are making a loss by loaning money to the German government.
While this sounds like great news for Germany -- making money on borrowing -- it's also a strong sign of nervousness about Europe's grim economic reality.
Investors are worried that slowing growth and the absence of inflation in Europe could turn into stagnation, or even a new recession. They view German bonds as safe because of the very low risk that Europe's biggest economy would default on its debt.
CNNMoney's Fear & Greed Index is firmly in "neutral" mode, indicating investors are uncertain about which direction stocks are heading next.
They're willing to pour more money into loss-making German bonds because they are worried other assets might lose even more value.
Eurozone's economy grew just 0.3% in third quarter, a slowdown from the second quarter. Inflation was just 0.1% in October, and unemployment is still hovering just below 11%.