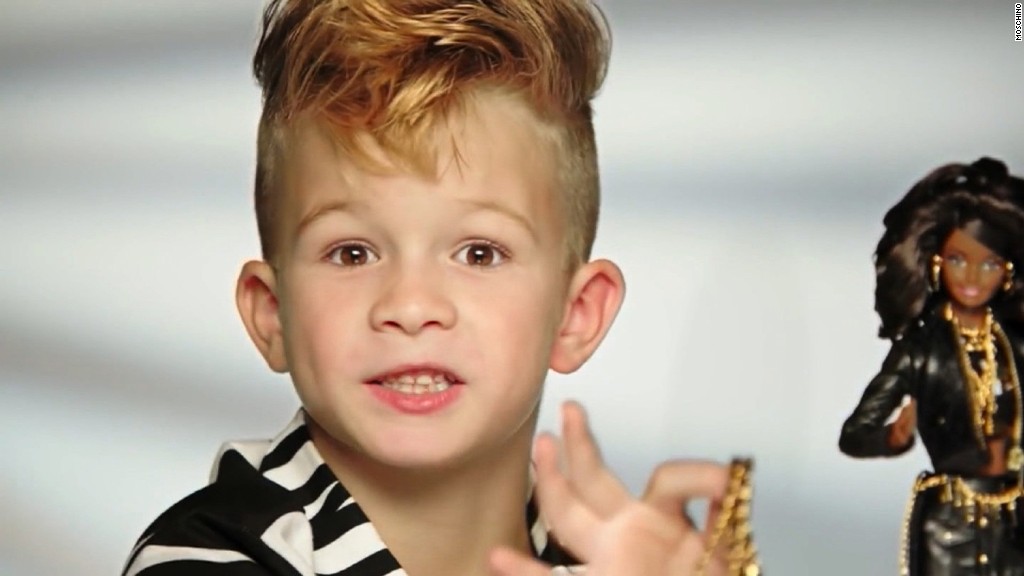 "Moschino Barbie is so fierce," says the little boy in Barbie's new commercial.
It's the first Barbie ad ever to feature a boy playing with the doll. The ad touts the limited edition Moschino Barbie, which originally retailed for $150 at Net-a-porter.com.
"This video parodies iconic Barbie commercials from the 1980s starring a young Jeremy Scott look alike," Mattel, the company that produces Barbie, said in a statement. "The video celebrates how boys and girls alike play with Barbie -- it's all about self-expression, fashion, imagination and storytelling."
Jeremy Scott is the creative director of high-end designer Moschino, who has often sported a blonde faux hawk.
Mattel and Scott created the video as part of the Moschino and Barbie collaboration. It's been posted online to Moschino's official YouTube channel, but not Barbie's. The spot will not air on television.
Scott has said Barbie is one of his inspirations. He spoke of the collaboration in a joint statement with Mattel (MAT).
"The thing I love most about Barbie, is that she is the ultimate muse, she's worn every style and design imaginable and at the same time she's had every possible profession you can dream of."
Scott tweeted that his ad had made "his-tory by having the first boy playing with a Barbie." He elaborated on how happy he was in an Instagram post.
"To me it was so natural to have a boy playing with the Barbie as well as the girls," he said. "I am thrilled that its started a national discussion about gender neutrality for kids' toys. I think we should let kids play and be happy after all play is the work of childhood."
The Moschino Barbie comes complete with an eight-piece Moschino wardrobe, but appears to be sold out now. Buyers are reselling them online for nearly three times their original price.
"We are proud that the Barbie brand ignites imagination and storytelling amongst a diverse range of fans," said Alex Clark, a spokesman for Mattel.