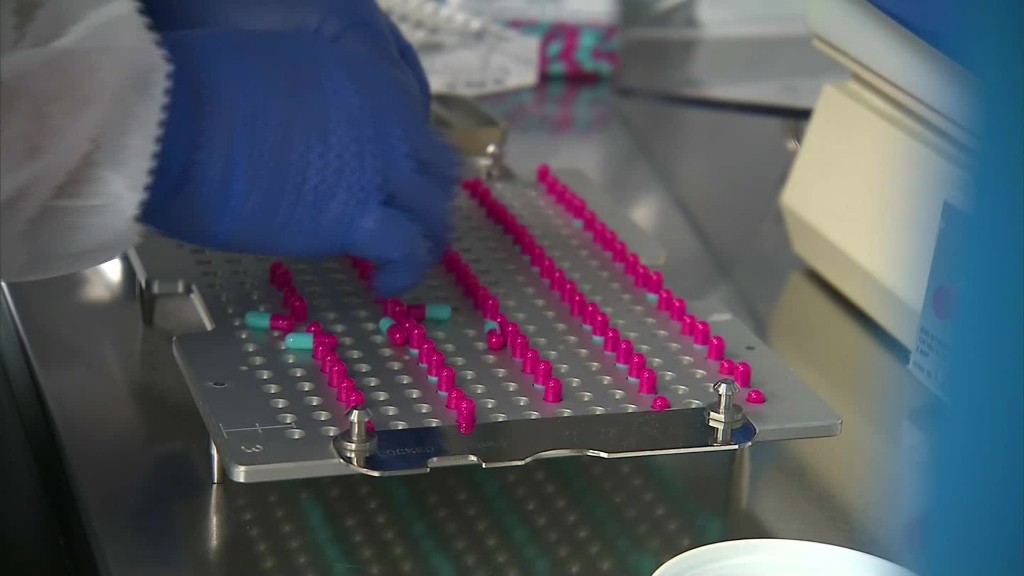 Remember Martin Shkreli? The hedge fund manager turned pharmaceutical executive who became the center of a debate on drug prices after his firm Turing raised the cost of a drug used by AIDS patients by over 5,000% from $13.50 a pill to $750?
Well, he just bought a majority stake in another drug company ... and shares of it surged 400% on the news.
KaloBios, which has several cancer drugs in development, disclosed late Wednesday that an investor group "comprised of Martin Shkreli and associates" acquired more than 50% of the company.
SEC filings show that Shkreli purchased the stock Monday and Tuesday at a range of 61 cents a share to $2.43 a share.
KaloBios (KBIO) closed on Wednesday at $2.07 and ended the day Thursday at $10.40. It went as high as nearly $15 at one point.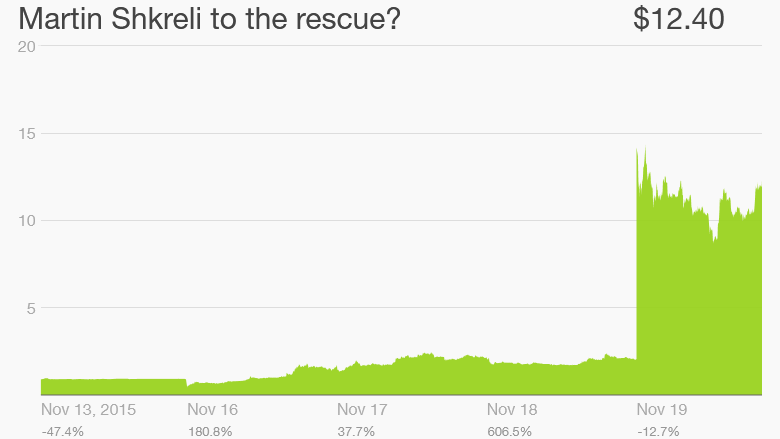 Why was it so cheap to begin with earlier this week? Here's where things get interesting.
KaloBios announced last Friday that it would wind down its operations and liquidate assets.
Related: Senate launches investigation into Turing
The company said it would discontinue the development programs for two cancer drugs -- one for hematologic malignancies and another for chronic myelomonocytic leukemia.
This news came just a little more than a week after KaloBios said it would lay off 17 employees (61% of its staff) and look for a buyer of the company.
So is Shkreli going to save KaloBios? It seems that way.
KaloBios executive chairman Ronald Martell said in a statement Wednesday that the company "received communications from Mr. Shkreli informing us of his group's ownership position, and a proposal to continue the company's operations."
Shkreli was not immediately available for comment about the KaloBios investment.
Presumably, he must think that the company's cancer drugs have some promise though.
Shkreli wrote a snarky tweet Tuesday that poked fun of people offended by the fact that drug companies want to make money.
And Wall Street seems willing to overlook the recent controversy that's surrounded Shkreli.
He became the poster child for greedy drug makers after Turing hiked the price of Daraprim by 5,546%.
The move led to a wave of criticism of him and the rest of the biotech industry by Democratic presidential contenders Hillary Clinton and Bernie Sanders. The Senate is also looking into Turing for its pricing practices.
Related: Martin Shkreli goes to war with CNBC
Shkreli has defended the price hike, saying that it was necessary in order for Daraprim to be profitable and that Turing will be able to use that money to develop even better drugs.
He has vowed to lower the price of Daraprim though. Another company, Imprimis Pharmaceuticals (IMMY), is selling a Daraprim alternative for just $1 a pill.
So it remains to be seen what Shkreli plans to do with the patents and other assets of KaloBios. Will he hire back any of the employees that were laid off?
But investors who were betting against KaloBios aren't happy.
There's even one trader who's set up a page on crowdsourcing site GoFundMe to help raise the more than $100,000 that he claims he now owes ETrade (ETFC) after his short position in KaloBios went belly up thanks to Shkreli.