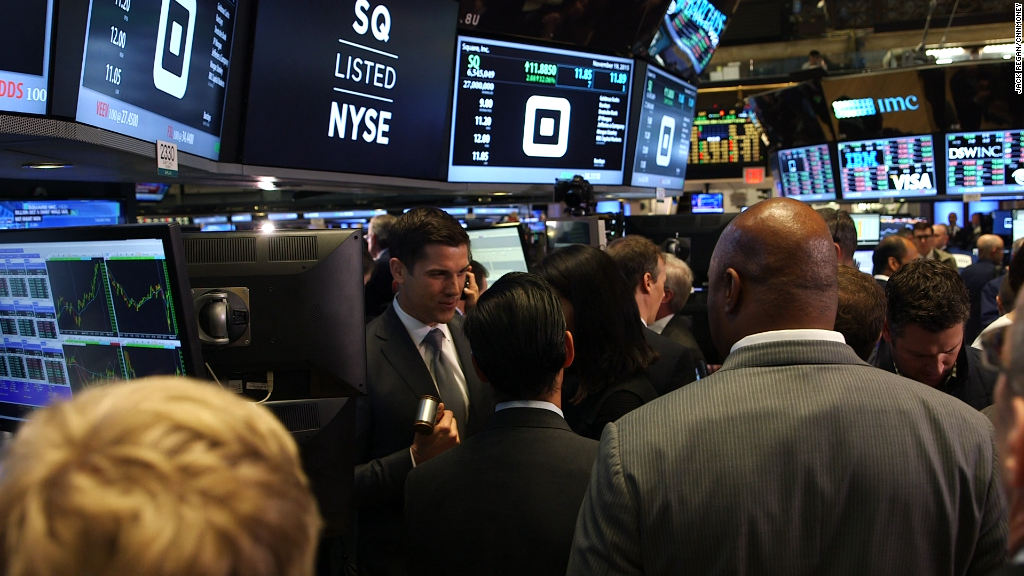 Call it a moral victory for the unicorns.
Shares of Square rose 45% Thursday. But it's still a sign of weakness for Silicon Valley's ballyhooed startups.
Square (SQ), the mobile payments processing firm run by Twitter (TWTR) CEO Jack Dorsey, opened at $11.20 and quickly rose as high as $14.78 before finishing the day a little bit above $13.
But Square priced its initial public offering Wednesday night at $9 a share -- well below its expected range of $11 to $13.
There's no sugarcoating this. Square failed to excite the managers of big mutual funds and hedge funds, the so-called smart money on Wall Street.
The stock's gains on Thursday merely showed that investors think Square might be a bargain near the original $11 to $13 price range.
"Square had to price the IPO very low to get this pop. Public investors are still wary," said Sheeroy Desai, CEO of privately held software company Gild. "Late-stage private markets have gone a little crazy. Hopefully this will bring some sanity to the market."
That could be a bad sign for other unicorn startups looking to one day go public -- billion dollar startups like Airbnb, Dropbox, Pinterest, Snapchat and Uber.
Related: Square IPO looks to be out of shape
Square raised $243 million in the stock sale. And at a price of about $12, the company is valued at $3.9 billion. Last year, Square raised money from venture capitalists at a value of $6 billion.
"In an IPO market where hype and buzz was a far greater driver of IPO value than fundamentals, Square might have done very well. But the IPO landscape has changed in recent months." said Brian Hamilton, chairman of research firm Sageworks.
Why is there such a discrepancy between the prices that Silicon Valley and Wall Street are willing to pay for Square?
For one, Square's IPO comes at a tough time for newish tech companies in general.
Other recent tech IPOs -- such as Box (BOX), Alibaba (BABA), GoPro (GPRO) and Fitbit (FIT)-- have all tanked following flashy debuts.
And shares of another unicorn, Pure Storage (PSTG), have barely budged since going public last month.
That's because Wall Street tends to be more short-term focused and less forgiving of a company's shortcomings than VCs who can afford to take a longer-term view.
Square, like many other unicorns, is not profitable. That's strike one.
"Even at a large discount, this is a very problematic IPO," Hamilton said. "Much has been made of Square's greatly reduced valuation, but this is still a highly flawed company with a multi-billion dollar price tag."
Investors also seem concerned about tough competition from rivals First Data (FDC) and PayPal (PYPL) as well as the threat from the likes of Apple (AAPL), Google (GOOGL) and Facebook (FB) in the mobile payments market. Strike two.
Related: VC Bill Gurley calls private valuations 'fake'
And then there's the Dorsey factor. He has to convince investors that he will be able to effectively run both Square and the struggling Twitter. Strike three! You're out!
"Twitter has a lot of work ahead of them which will require a lot of Dorsey's time," said James Gellert, CEO of Rapid Ratings, an independent research firm.
"My concern is that he can't be in two places at once, so at the end of the day someone's being shortchanged -- Twitter shareholders or Square shareholders," he added.
Of course, Square could turn things around and become a Wall Street stud.
Dorsey told CNNMoney's Laurie Segall Thursday morning that he was not worried about the drop in Square's valuation over the past year.
"We have a very long term view in our company. We want to build a company that endures generation after generation after generation," he said."We're going to get back to work and we're going to continue to build value in our business."
Heck, Facebook's IPO wasn't the smoothest of debuts. And look at it now.
But Facebook was profitable when it went public in 2012. Square still has much to prove.
Silvio Tavares, CEO of the CardLinx Association, a group that represents merchants and payment processors, said that Square does have a bright long-term future. But the company may not be as disruptive as investors had hoped.
Square isn't making Visa (V) and MasterCard (MA) obsolete. It's collaborating with them.
"It's like a teenager making it to the Olympics. It's great to get there but they're probably not going to win any medals," Tavares said.
So it will take more than a celebrity board of directors (Mary Meeker, Larry Summers, former Brown University president Ruth Simmons and NBA legend Magic Johnson to name a few) to convince Wall Street that Square is worth buying.
Despite the pop Thursday, Square looks more like the current Los Angeles Lakers than Magic's Showtime teams from the 80s.