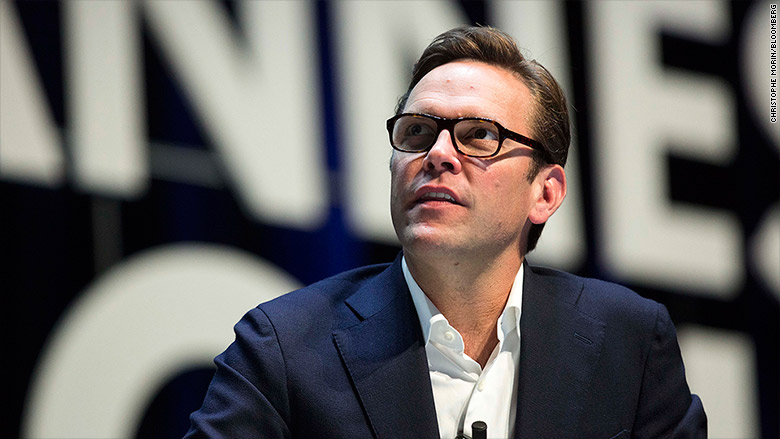 Pepsi's insertion into Fox's hit show "Empire" is exactly what James Murdoch wants to see more of.
Murdoch, who's been the CEO of 21st Century Fox for nearly five months, is becoming more and more vocal about how the TV advertising model has to change — and fast.
His view is that consumers are less and less willing to accept three or four minutes of ads interrupting their favorite shows every seven or eight minutes.
"What we haven't seen enough of is a lot of ad innovation," he said at a Paley Center conference Thursday morning.
Murdoch praised the producers of "Empire" for a "creative collaboration" with Pepsi that started on Wednesday night's show and will continue for several weeks. It involves a character shooting a commercial for Pepsi, and the finished product will eventually air right inside the episode.
"It's not something that's inauthentic," Murdoch said. "It's something that works in the narrative of the show and pushes the narrative forward."
Related: James on Lachlan Murdoch: 'I don't think we bicker'
He pointed out that a product integration like Pepsi's can't be avoided through ad fast-forwarding.
Murdoch wants more experimentation a la Hulu's new ad-free option, which lets streaming TV subscribers pay an extra $4 a month to remove practically all the ads from the service.
At the conference on Thursday, Murdoch said he couldn't reveal specifics about how many people have paid for it, but he said the ad-free option has conditioned users to think differently about the service as a whole.
"Once you give people the choice," he said, "the people who stay with the limited ad load complain less about the ads, because they've actually consciously made that choice."
Related: Rupert Murdoch to turn over Fox to his sons
He said they perceive that by sitting through the ads, "I'm saving $4."
"We shouldn't be afraid of that," Murdoch said. "We should always trust the customers."
Murdoch praised another Hulu feature: The choice to view one long, special ad before a show to avoid any interruptions later.
"You actually end up thanking the sponsor for giving you an ad-free experience," he said.
Hulu has been pioneering such changes to the ad model for years, but now, with Murdoch making the subject a priority, it is getting more attention.
Media executives like Murdoch are increasingly concerned that Netflix -- which is ad-free -- is conditioning a generation of viewers to want TV without interruptions.
Related: 'Empire' reigns with huge season 2 premiere
Murdoch said the industry should not "give up on advertising in any way," but must work hard to "earn the attention of customers."
His comments doubled as an argument for why TV-style advertising should be more highly valued than digital ads on sprawling social networks on Facebook.
Streaming TV sites like Hulu can offer "immersive full-screen experiences," he said, while barely-visible ads on Facebook make no lasting impression.
Sign up for the Reliable Sources newsletter — delivering the most important stories in the media world to your inbox every day.