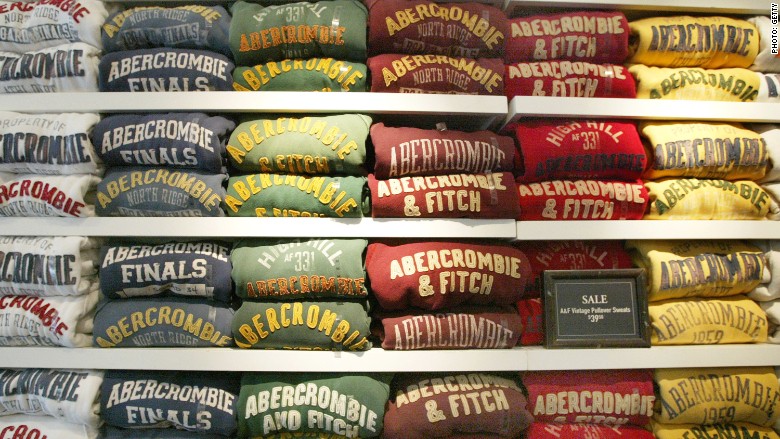 Abercrombie & Fitch is no longer selling sex. And that's great news for the company.
The retailer reported sales and profits that topped Wall Street's forecasts Friday morning. The stock soared more than 25% on the news.
Abercrombie & Fitch (ANF) is trying to change its image to win back fickle teen shoppers. It seems to be working.
Overall sales were flat in the third quarter, a huge improvement from recent quarters.
Same-store sales were even up 3% at the company's younger-skewing Hollister chain and also increased slightly for Abercrombie & Fitch internationally.
It's an impressive rebound for a company that was once one of the kings of America's shopping malls.
Sales started to plunge in the past few years as the shtick from former CEO Mike Jeffries wore thin.
Related: Abercrombie & Fitch agrees to end on-call worker shifts
The retailer often pushed the envelope with scantily clad models in ads, its catalogs and the stores.
Shoppers were usually "greeted" with overbearingly loud music and the noxious smell of cologne.
And the A&F and Hollister logos were emblazoned on just about every piece of clothing. It wasn't what Project Runway judge Nina Garcia would call "fashion forward."
But Jeffries stepped down nearly a year ago. And the company has ditched almost everything associated with him since then.
In April, the company announced it would stop "sexualized marketing." It also said it would change the dress code for its employees and tone down the music and cologne in order to create a "more pleasurable shopping experience."
Abercrombie still does not have a permanent CEO. But executive chairman Arthur Martinez seems to be providing the type of grown-up leadership that the company lacked under Jeffries.
Related: No more shirtless models at Abercrombie
Martinez is a retail pro. He was CEO of Sears in the 1990s -- back when Sears (SHLD) was still a relevant retailer and not the joke it's become under Eddie Lampert following its ill-fated merger with Kmart.
In the past few months, Abercrombie has made several big changes to try and revitalize both the core brand and Hollister.
It's de-emphasized the logo apparel at the two chains.
In August, the company announced a new team of managers at A&F that included apparel veterans from Kohl's (KSS), Ralph Lauren (RL), PVH (PVH) and Carter's (CRI).
Abercrombie also hired a new vice president of diversity and inclusion last month -- a telling move given that the company was often knocked for cultivating a "cool kid" image.
Jeffries infamously said this in a 2006 interview with Salon.
"Are we exclusionary? Absolutely. Those companies that are in trouble are trying to target everybody: young, old, fat, skinny. But then you become totally vanilla."
Abercrombie has come a long way since then.
Martinez said Friday that the company has "seen positive customer response to the actions we have been taking on a number of fronts" but added that "we still have much to achieve."
The company is predicting that same-store sales will merely be flat in the fourth quarter. While it's an improvement, it's obviously not great.
Eric Beder, an analyst at Wunderlich Securities, wrote in a report Friday that there are encouraging signs -- especially the better sales at Hollister. But he's still cautious.
"We would like to believe that this is an indication that Abercrombie is on the cusp of a turn," Beder wrote, before adding that "while the fallen retailer is getting up, the company is taking its time."
Abercrombie continues to face major challenges from fast fashion upstarts like Forever 21, H&M, Zara and Uniqlo.
It's still a tough environment for the likes of Aeropostale (ARO), American Apparel (APPCQ) and American Eagle Outfitters (AEO), (I'll take teen clothing retailers beginning with the letter A for $800, Alex.)
But it looks like Abercrombie may have finally stopped the bleeding now that adults are running the show.