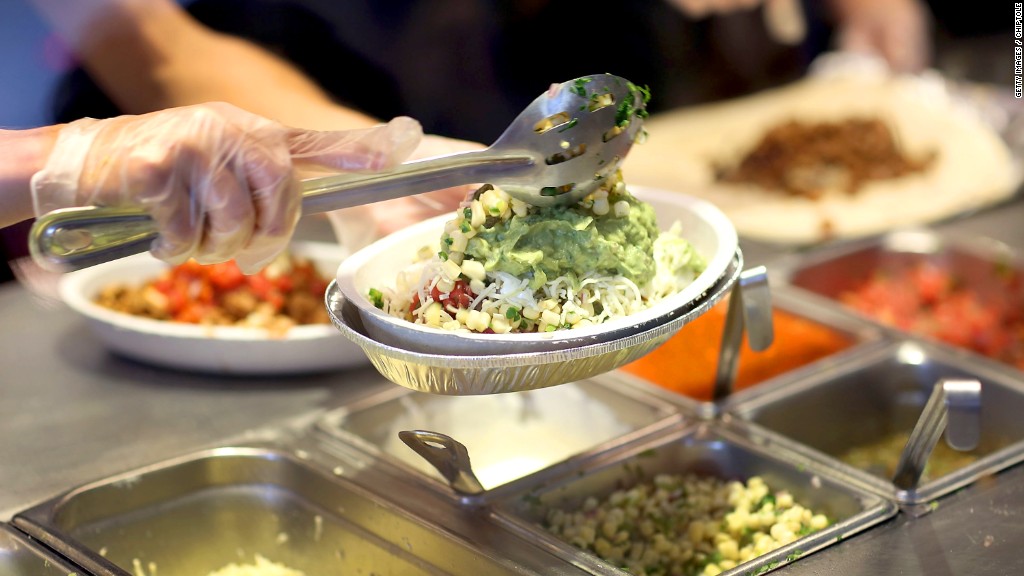 Shares of Chipotle Mexican Grill plunged 12% Friday after the CDC warned that an E. coli outbreak that appears to be linked to food at the popular burrito chain has now been reported in six states.
Chipotle (CMG) had just reopened 43 restaurants in Seattle and Portland a few weeks ago after the CDC first identified the outbreak in late October.
The CDC said Friday that there are now cases in the states of California, Minnesota, Ohio and New York as well as Oregon and Washington.
Chipotle said in a statement that it is working closely with state and federal health officials and noted that there have been no new reported cases of E. coli in Washington or Oregon.
"Investigators have suggested that in incidents like this, it is not unusual to see additional cases after the initial incident as the investigation moves forward," Chipotle said, adding that the source of the problem appears to have been "contained."
Related: Chipotle sued by customer who says she got E. coli
According to Chipotle, the CDC informed it that five people who tested positive for the same E. coli strain found in the Pacific Northwest reported eating at Chipotle restaurants.
Two were in Turlock, Calif., one in Akron, Ohio, one in Amherst, NY, and one in Burnsville, Minn.
Chipotle said it is taking immediate action at these restaurants, including deep cleaning, replacing ingredients, changing food preparation procedures, giving investigators necessary supply chain data and surveying employees.
"We offer our sincerest apologies to those who have been affected," said Chipotle chairman and co-CEO Steve Ells in a statement. "We will leave no stone unturned to ensure the safety of our food."
It's still not clear what exactly caused the outbreak.
The CDC has simply said that "the epidemiologic evidence available at this time suggests that a common meal item or ingredient served at Chipotle Mexican Grill restaurants in several states is a likely source."
Shares of Chipotle have now fallen more than 15% since the news of the first outbreak was reported in late October. The stock is trading at its lowest level since May 2014.
Chipotle, which was spun off by McDonald's (MCD) in 2006, has been a Wall Street darling for several years.
The company is at the center of the so-called fast casual revolution, winning raves from customers and investors for the quality of its food.
But Chipotle's sales have begun to slow a bit recently.
Meanwhile, rival Qdoba, which is owned by Jack in the Box (JACK), has reported stronger sales growth. Shares of Jack in the Box rose more than 2% Friday.
CNN's Cristina Alesci and Debra Goldschmidt contributed to this story.