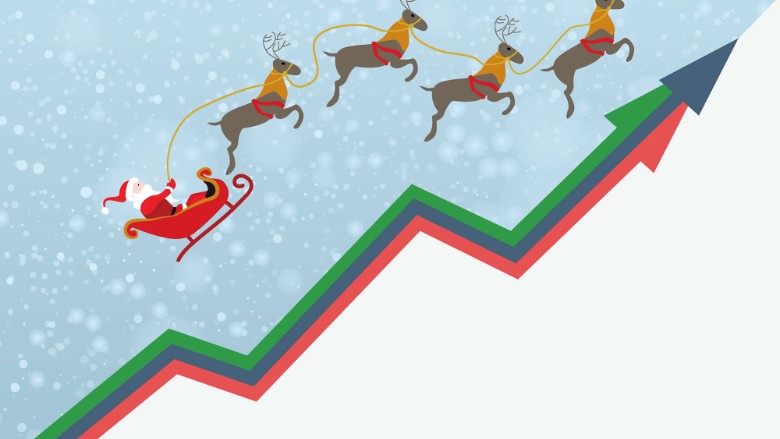 Stocks have been all over the place lately.
After a lot of volatility in August and September, the S&P 500 index recorded its best October in years. Now the question is whether stocks will gain even more momentum going into the holidays.
The S&P is up 0.7% so far this month.
It's Thanksgiving this coming week followed by Black Friday, the official kickoff for holiday shopping.
The holidays often lead to a last-minute rally. The S&P 500 has gained an average of 3.7% in November and December in the last six years, according to Yardeni Research.
It's what's called a "Santa Claus rally" between Christmas and the New Year.
Related: Coming soon: one dollar = one euro
Shoppers aren't dropping. They're just more choosy
All eyes are on the American shopper. That's because consumers are the main engine behind U.S. economic growth.
They've been sending mixed signals though. Many major retailers, such as Walmart (WMT), Macy's (M) and Nordstrom (JWN), are not optimistic that this holiday season will be hot.
But overall, companies that depend on consumers are doing very well this year. The S&P 500's consumer discretionary sector is up 12% so far this year, the best of any sector.
That's because spending habits are changing, experts say.
They're not shopping at the traditional department stores, but they're spending online and on "innovative products," said Lindsey Bell, senior analyst at S&P Capital IQ. She cites Nike (NKE)-- which has been performing well -- as an innovative company.
Amazon, (AMZN) the world's largest retailer, backs up Bell's case too. Its stock has doubled in the past 12 months. Home improvement companies Home Depot (HD)and Lowe's (LOW)are also performing well, sparked by an increase in big-ticket purchases by homeowners.
Bell said that even though she's positive about holiday spending, the American consumer isn't "freely spending" yet.
"The Great Recession is still fresh in the mind," she said.
Next week, both Tiffany (TIF) and Dollar Tree (DLTR) report their quarterly results, which could give us a window into consumer sentiment at two ends of the spectrum.
Related: Money really can buy happiness, Harvard prof says
Christmas present from central banks?
December is a crucial month for investors.
The European Central Bank meets December 3 and it's expected to pump more cash -- called quantitative easing or QE -- into the European economy while keeping European interest rates near zero. That's expected to help European stocks the way the Fed's bond buyback program boosted U.S. stocks for six years.
The U.S. Federal Reserve meets December 15-16 and it will decide whether to raise it's key interest rate for the first time since 2006.
Although a rate hike sometimes causes short-term volatility in markets, raising rates off zero would provide certainty, experts say.
"The best present that the Fed can give the markets for the holidays is certainty," said Steve Chiavarone, portfolio manager at Federated Investors. "The Fed moving in December is a positive development for the market."
Chiavarone is confident that "Santa is coming" for markets, and forecasts that the S&P 500 will finish at about 2,200, which would be 5% from where the index currently stands at 2,087.