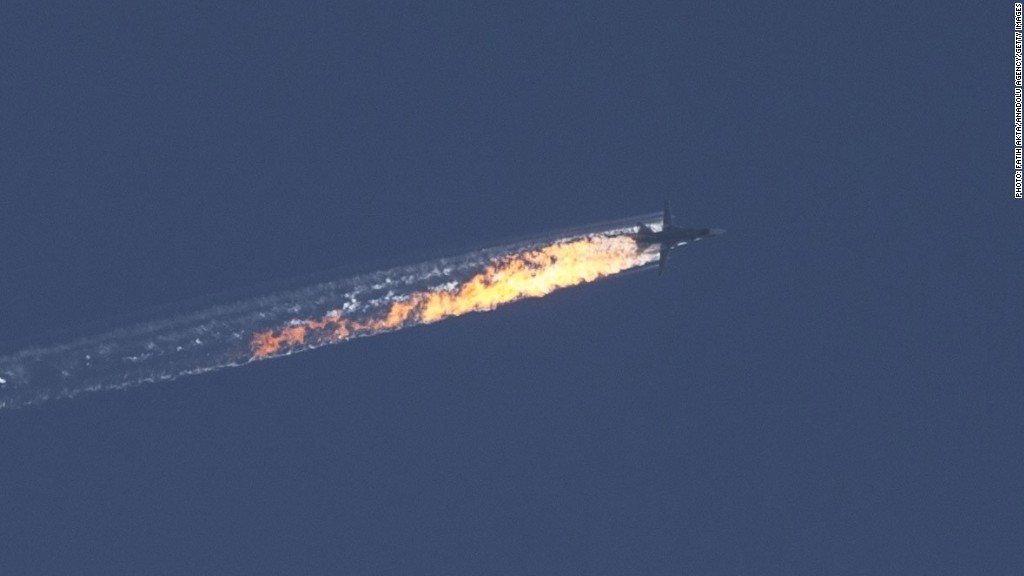 The Turkish lira dropped and stocks declined after Turkey shot down a Russian warplane near the Turkish-Syria border.
NATO member Turkey said it shot down the plane after the aircraft repeatedly violated its airspace and ignored several warnings. Russian officials denied that the plane had crossed into Turkish airspace.
The news pushed European markets lower, with stocks in Russia and Turkey hit the most.
The lira shed nearly 1% against the dollar. The currency has already fallen by about 19% against the dollar this year, making it one of the worst performing emerging market currencies. Stocks at the Borsa Istanbul shed 1.4% on Tuesday.
The Russian ruble dipped 0.2% against the dollar.
"The incident is undoubtedly significant and the markets have already reacted -- the lira and the ruble, as well as both countries' stock markets are down," said Liza Ermolenko, emerging markets economist at Capital Economics.
Related: The cost of fighting terrorism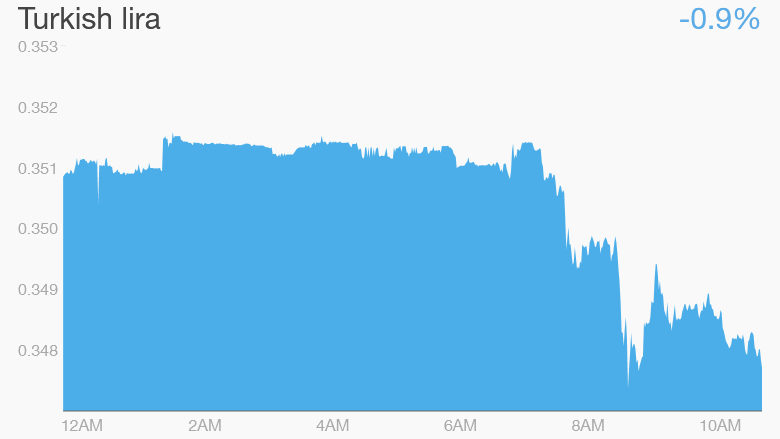 The crash is likely to add more heat to the already tense situation in the Middle East. It comes at a tricky time for Turkey, which has just emerged from elections. The win by the ruling AK party provided a welcome relief for investors, who were stuck in political uncertainty for months.
But the rally could come to an abrupt end after the events on Tuesday.
"There is clearly a potentially for a much bigger reaction if political tensions between the two countries escalate sharply, much depends on what line officials take from here," Ermolenko said.
Turkey's growth has slumped in recent years. The International Monetary Fund expects the economy to grow by 3.1% this year and 3.6% in 2016 -- way below the 9% it experienced in 2010 and 2011.
The new government will need to brace for the shock of an interest rate hike in the U.S., which could come as soon as December. Turkey has reason to fear higher U.S. interest rates because it has borrowed heavily in dollars, and it imports much more than it exports.
A move by the Fed to raise rates could further boost the dollar, making Turkey's imports a lot more expensive. The cost of servicing Turkey's short term foreign debt of nearly $125 billion, or roughly 8% of GDP, would also rise.