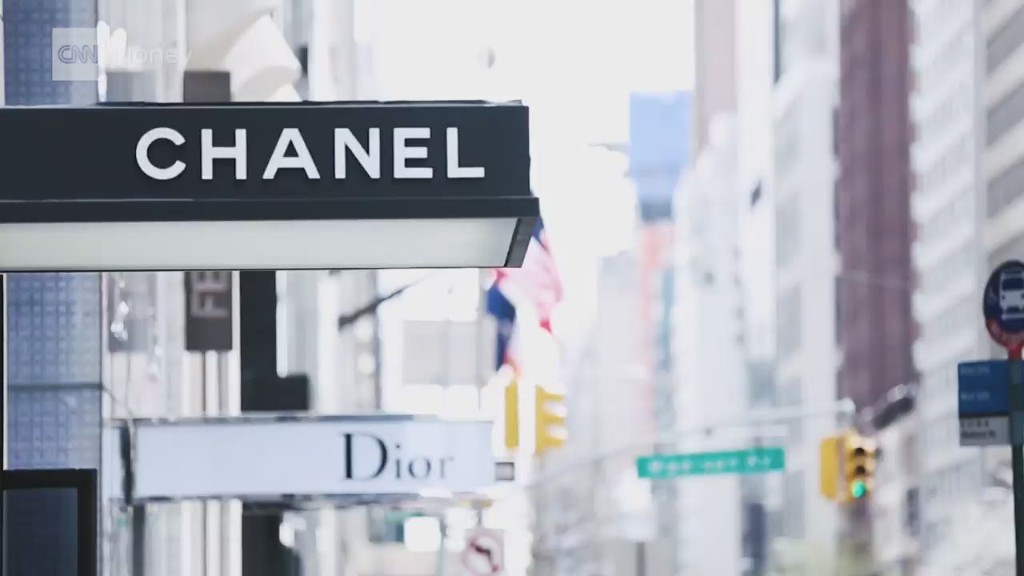 The strong dollar has claimed another retail casualty: Tiffany.
The high-end jewelry retailer reported earnings and sales that missed forecasts Tuesday morning. Its outlook for the holidays wasn't very bright either.
So much for seeing many of those signature little blue boxes stuffed in stockings or under the tree?
Tiffany (TIF) CEO Frederic Cumenal said the dollar's surge has hurt both its international and domestic businesses.
The value of sales from Tiffany's overseas operations take a hit when translated from weaker euros, pounds, yen and yuan back into dollars.
into dollars.Related: Coming soon: one dollar = one euro
The strong greenback also makes it less attractive for tourists to do their best Holly Golightly and Paul Varjak -- while singing the Deep Blue Something song from the mid-1990s? -- and shop at the flagship store on 5th Avenue in New York City.
(Maybe Tiffany should pull a McDonald's (MCD) and actually start serving breakfast for real? All day. But I digress.)
Tiffany executives said during a conference call with analysts that there was "pronounced weakness" in New York and other tourist centers in the U.S. -- including Hawaii.
The company joins a growing list of retailers that are ringing up fewer sales to foreign shoppers in the U.S.
Shoe seller DSW (DSW), iconic retailer Macy's (M) and mall owner Simon Property Group (SPG) have all warned in recent weeks that tourist spending is hitting the skids due to the dollar.
Related: Ho ho no! Macy's expects poor holiday sales
But here's where things get a little more worrisome.
Cumenal noted that it's not just a drop in the number of Europeans and Asians heading to New York that's hurting Tiffany. American consumers have apparently become more skittish as well.
"We believe that volatile, uncertain economic and market conditions in the U.S. and other regions are affecting consumer spending, causing us to maintain a cautious near-term outlook," he said.
And this appears to be an issue for one of Tiffany's competitors as well.
Signet (SIG), which owns the jewelry chains Kay, Jared and Zales, reported sales and profits that were also lower than Wall Street's estimates. And the company's earnings guidance was at the low end of expectations too.
Shares of Signet fell about 3% Tuesday on the news. Tiffany's stock opened the day lower but rebounded and was up more than 2.5% in midday trading.
Still, it's been a much tougher year for Tiffany than Signet. Shares of Tiffany are down nearly 30% while Signet's stock is up 3% for the year.
Related: Retail CEO calls economy 'Janet Yellen's Magic Money Machine'
But it's discouraging to see weakness at Signet.
Signet isn't considered as much of a luxury retailer as Tiffany. Let's face it. People from Italy and Japan aren't flying to Oklahoma to get a bargain ring or necklace at the mall from Jared.
"It's important to note that we don't have the big tourism factor that other businesses have and we see that as a benefit to us," said Signet CEO Mark Light during a conference call with analysts Tuesday.
So if more well-to-do foreigners and middle-class Americans are holding back on buying diamonds and pearls, that is yet another troubling sign for retailers this holiday season.
Then again, it could also be yet another example of the growing clout of Amazon (AMZN) and online shopping in general.
Internet jewelry retailer Blue Nile (NILE) gave a decent outlook when it reported earnings earlier this month.