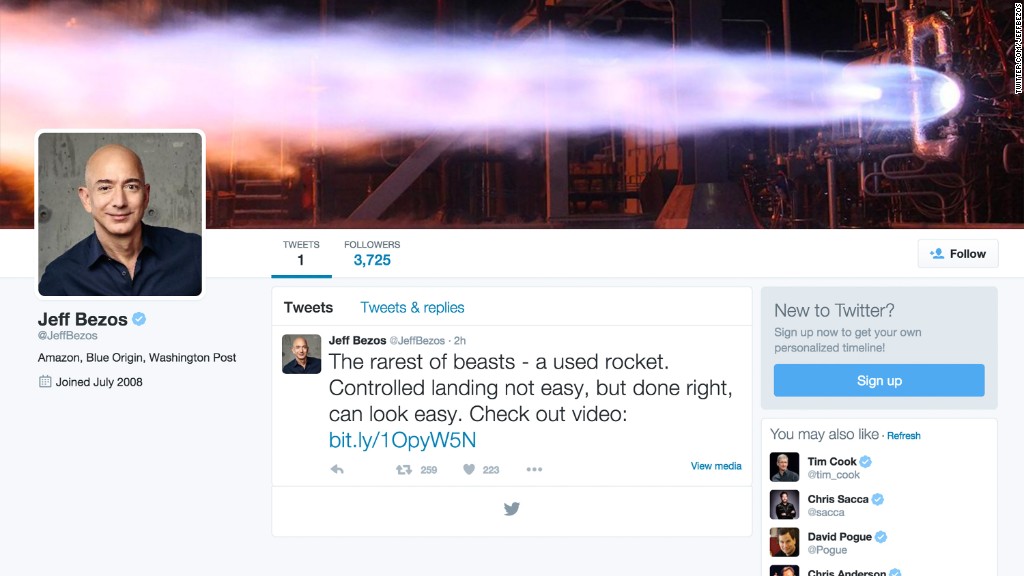 Elon Musk has a funny way of saying congratulations.
After Jeff Bezos' rocket company Blue Origin had a successful launch Monday, Musk, the CEO of Tesla (TSLA) and SpaceX, was quick to say congrats on Twitter.
Blue Origin's New Shepard rocket made it successfully into outer space and then landed upright upon its return to Earth.
Creating a rocket that can be reused could drastically cut the cost of space travel. That's also a central goal of SpaceX, which has twice tried to land a rocket vertically that had been to space. But the rocket toppled over both times.
A third attempt in June failed when the unmanned rocket exploded on its way to space.
But Musk couldn't leave it at that.
He let folks know that SpaceX has more ambitious space travel plans than Blue Origin, and that much is clear. SpaceX has already won contracts from both NASA and commercial customers to carry payloads and people into orbit, while Blue Origin's New Shepard rocket is designed to carry space tourists for flights that last only a few minutes.
Musk also said that his company has already achieved the vertical rocket landing that Blue Origin did on Monday, which is a far more dubious claim.
Musk claimed that an earlier SpaceX rocket named Grasshopper had completed six "suborbital" flights and successfully landed vertically. But to compare the Grasshopper flights to Blue Origin's mission on Tuesday is disingenuous, since Blue Origin's flight went more than one hundred times farther than Grasshopper.
Musk also pointed out that there have already been rockets that went to the edge of outer space and landed on runways so they could be reused. The X-15 rocket plane, a joint effort of the U.S. Air Force and NASA, traveled 24,000 feet higher in 1963 than New Shepard did on Monday.
Related: Jeff Bezos does a whole lot more than just Amazon
And a commercial rocket plane, SpaceShipOne, won a prize in 2004 by sending manned missions into space twice within 14 days, reaching an even higher altitude.
But neither of those rocket planes ever had the potential to reach the Earth's orbit, which a rocket has to do in order to stay in space for a significant amount of time.
Blue Origin's accomplishment Monday was significant because it was the first time a ground-launched rocket landed in a reusable condition after a trip to outer space. And ground launched rockets have so far been the only way to reach orbit.
Bezos didn't respond to any of Musk's tweets on Twitter. That's not surprising.
While Musk tweets prolifically, Bezos has only tweeted once in his life, Tuesday to announced the success of the Blue Origin flight.