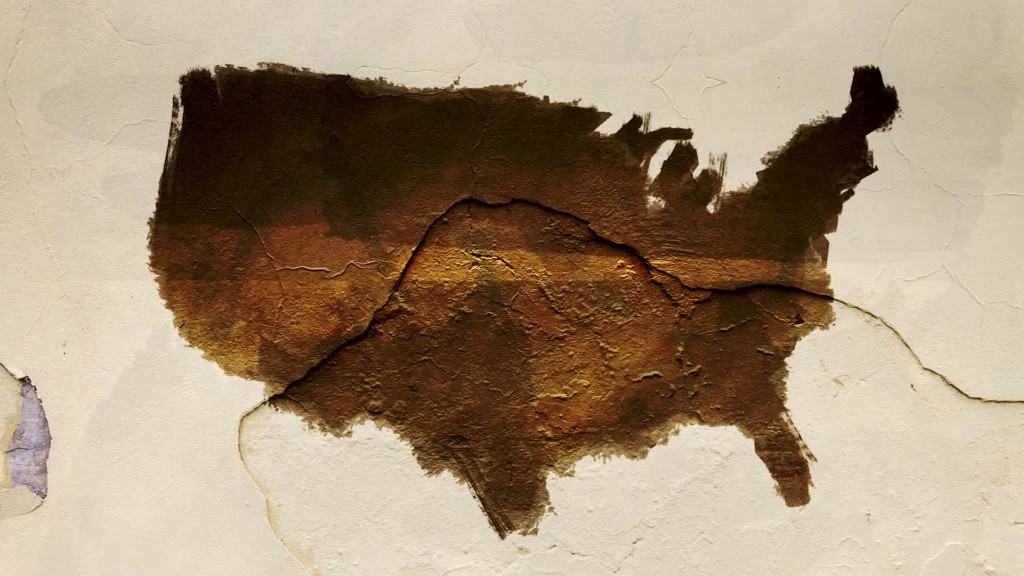 The financial deck appears to be stacked against blacks and Hispanics in America.
Their family wealth is typically one-tenth that of whites. They earn considerably less. They are more likely to be unemployed or in poverty and they are less likely to own a home.
Yet despite all this, blacks and Hispanics are far more optimistic about being able to live the American Dream these days than whites.
Some 55% of blacks and 52% of Hispanics say it's easier for them to achieve the American Dream than it was for their parents, compared to 35% of whites, according to a new CNN/Kaiser Family Foundation poll on race.
This is true even though many blacks and Hispanics CNNMoney interviewed said they are not in a financial position to fulfill their own dreams anytime soon -- if ever. For them, however, it's about opportunity. And they feel they have a lot more of it than their parents did.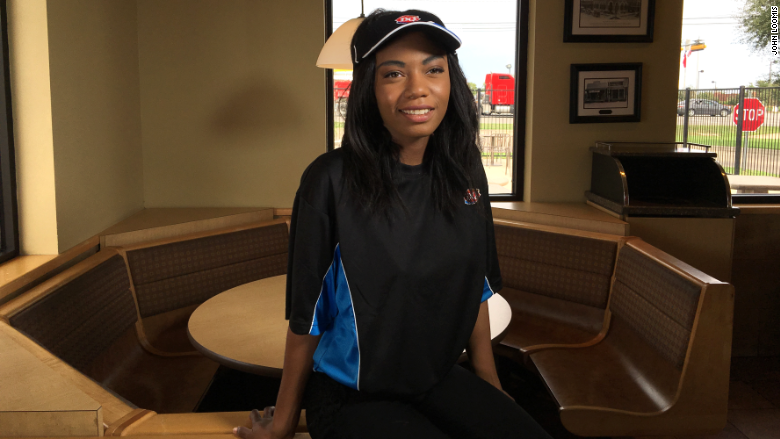 Take Breionne Carter, a 22-year-old black woman who lives in Pflugerville, Texas, a suburb of Austin.
After working at Popeye's for three years, she just landed a full-time job with benefits at Dairy Queen and hopes to be promoted to manager in coming months. She plans to enter Austin Community College once she is more financially settled and can buy a car.
Carter doesn't know exactly what she wants to do in life, but her dream is to create companies that focus on things she likes -- including clothes and music -- that will also provide those in her community with jobs and other opportunities. She wants to encourage people to have more confidence and pride in themselves. "You have to keep going forward, no matter what's holding you back," she said.
Though she is strapped for cash now, Carter has no doubt she'll be able to achieve any goal she sets. A high school graduate with no children, she's thankful to be in a far different situation than her mother, whom she said faced more struggles as a darker skinned black woman who had her first of nine children at the age of 17 and dropped out of high school. (She eventually got her GED and now works in medical billing.)
Her mother told her stories of being spit on at work and being called the "N-word." Carter said she's doesn't feel judged on the color of her skin.
"The world is changing," said Carter. "I face less discrimination. I have the opportunity to do things she couldn't do."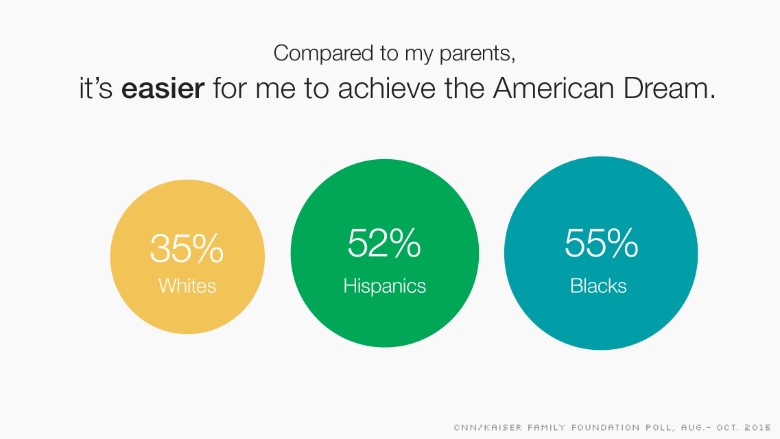 It's not surprising that blacks and Hispanics say they have a better chance of getting ahead today than their parents, experts said.
Previous generations of blacks had to contend with segregation and closed doors in many parts of the country. "[They] were bound by a set of legal and institutional restrictions," said Margaret Simms, director of the Low-Income Working Families project at the Urban Institute. There are "more possibilities for mobility than a generation or two ago."
Many Hispanics, meanwhile, migrated to this country or are the children or grandchildren of immigrants. They often see their fortunes rise with every generation, said Carol Graham, a Brookings Institution senior fellow whose research has also found blacks and Hispanics to be more optimistic about the future than whites.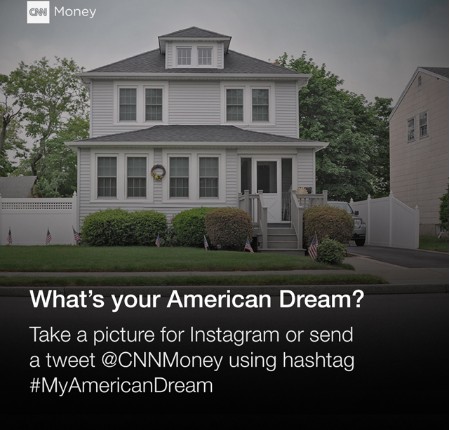 But faith in the American Dream has withered in recent years. The Great Recession and weak economic recovery has left many families struggling. A 2009 Pew Charitable Trusts poll found that 63% of blacks and 62% of Hispanics said it was easier for them to achieve the dream than their parents, compared to 46% of whites.
Ray Sanchez, however, remains a firm believer in the dream, even though his personal finances have suffered in the last few years.
Sanchez, who is Hispanic, made good money touring the country as a Buddy Holly impersonator until 2011, when he aged out of the role. Now 51, he's unemployed and finding it hard to land a job because of his severe diabetes, which has left him with neuropathy. His family -- which includes a son in 5th grade and a daughter in 11th grade, both on the honor roll -- depends on his wife's income as a health care aide. He also has a 28-year-old daughter who lives several hours away from his Monmouth, Oregon, home.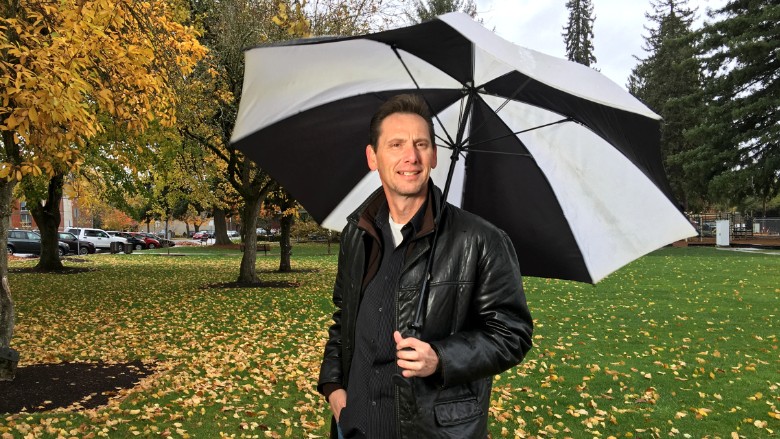 For Sanchez, the American Dream is about having a happy and loving family and a president he trusts. Right now, he says he's content on both fronts...though the 2016 election may alter that.
His life stands in sharp contrast to his parents' experience. His father, who was of Mexican descent, was forced to live on the streets in Texas at the age of 7, after his mother (Sanchez's grandmother) abandoned the family and his father died. Sanchez's father had to teach himself to read and write. Eventually, he found work at a lumber mill. Sanchez's mother dropped out of high school and became an "average housewife," raising three children, he said.
So while times are tough at the moment, Sanchez is hopeful he can change his fortunes.
"I have an education, so I have a lot of options," Sanchez said, while watching his son play soccer. "I could go back to school. If one thing doesn't work, I can do something else."
Whites, however, aren't as optimistic about their chances of living the American Dream. That's likely because many of their parents were able to buy homes and send their kids to college, possibly even on one income.
"They are starting from a place where they were much more comfortable," Simms said.
Jon Burke's parents were able to achieve their American Dream and were more confident they could hold onto it. But Burke, a 34 year old white man, can't say the same about his own situation.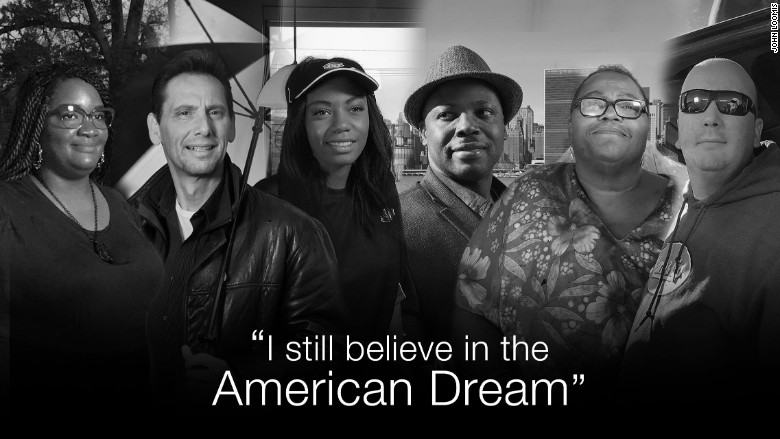 While he's financially stable, he is less certain about the future. A legal aid lawyer in Harvard, Massachusetts, he is raising three children with his wife, a lawyer in a private practice. Child care is expensive. Health care is expensive. College, even at a state school, is expensive, he says. The family's finances could go downhill quickly if someone gets sick or loses their job.
Americans have far less certainty and face more challenges these days -- partly because of the decline of unions and changes in government policies -- than many did in his parents' generation, Burke said.
His father was a college professor and his mom was a high school teacher. They had job security, guaranteed pensions and free healthcare. Now, people must shoulder too much of the risk and the burdens, rather than being spread across society, he says. The American Dream is too focused on individual achievement, he said.
"You could be doing fine today, but down the road, not so much," said Burke. "There are a lot of unnecessary obstacles people have to overcome. I don't think my parents had them in the past."
The CNN/Kaiser Family Foundation poll was conducted August 25 through October 3, 2015, among a random national sample of 1,951 adults, including 501 Black and 500 Hispanic respondents. Results for all groups have been adjusted to reflect their actual national distribution. Interviews were conducted on conventional telephones and cellphones, in English and Spanish, by SSRS of Media, Pennsylvania. This poll was jointly developed and analyzed by CNN and staff at the Kaiser Family Foundation (KFF). Results for the full sample have a margin of sampling error of plus or minus 3 percentage points; for results based on African Americans or Hispanics it is plus or minus 6 percentage points. Read more about the poll.
More from Race & Reality in America
The black-white economic divide in 5 charts
'I still believe in the American Dream'
Those who have the least dream the most