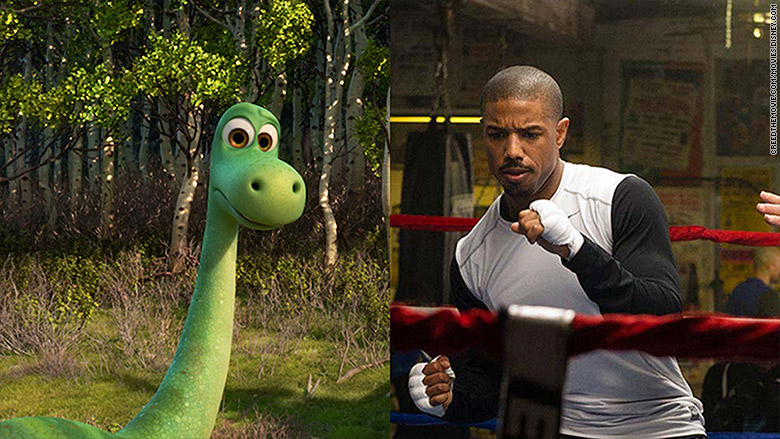 It's looking to be a feast for moviegoers at the box office this weekend.
Disney (DIS) and Pixar's "The Good Dinosaur" and Warner Bros. "Creed" both opened Wednesday and look to bring a bountiful box office harvest in time for Thanksgiving.
Industry analysts are projecting roughly a $55 million U.S. opening for the prehistoric Pixar film this weekend while "Creed" is looking at a range about $25 million to $30 million.
As for the five day holiday totals those projected numbers jump to roughly $75 million for "Good Dinosaur" and about $40 million for "Creed."
Both films are off to a good start.
"Creed," the seventh installment of the "Rocky" franchise, opened to $1.4 million for its preview showings on Tuesday night. "Good Dinosaur" wasn't far behind with a solid $1.3 million for its preview showings.
"Good Dinosaur" is this year's second helping of Pixar following the studio's hit "Inside Out" which opened to $90.4 million in June.
Related: Hollywood aims for record year at the box office
"Pixar's brand appeal is still unsurpassed in animation, as shown by 'Inside Out' breaking records for an original movie last summer," said Shawn Robbins, senior analyst at BoxOffice.com. "Healthy reviews should propel 'Dinosaur' to become another family-driven hit."
"Creed," starring Michael B. Jordan and Sylvester Stallone, may be the seventh film in the long-time franchise, but according to its reviews it appears to be more than just leftovers.
The film produced by Warner Bros., which like CNN is owned by Time Warner (TWX), has been a knockout with critics.
It currently holds a 94% score on review site RottenTomatoes.com and has some critics saying it's the best Rocky film since the 1976 original that won Best Picture.
"Underdog stories play well with moviegoers, especially around the holidays, and a beloved franchise like 'Rocky' has plenty of fans ready to see a new generation -- Michael B. Jordan, in this case -- carry the torch," Robbins added.
"Good Dinosaur" holds a strong review rating of 83%.
"On top of positive reviews for both films, the dearth of breakouts in November so far leaves this holiday weekend wide open for those two films to reinvigorate the box office," Robbins said.
Oh, and there's also "The Hunger Games: Mockingjay - Part 2."
Katniss and her cohorts look to take on the new challengers this holiday following its $101 million debut last weekend.
Related: 'Hunger Games: Mockingjay - Part 2' opens to franchise low $101 million
Sign up for the Reliable Sources newsletter — delivering the most important stories in the media world to your inbox every day.