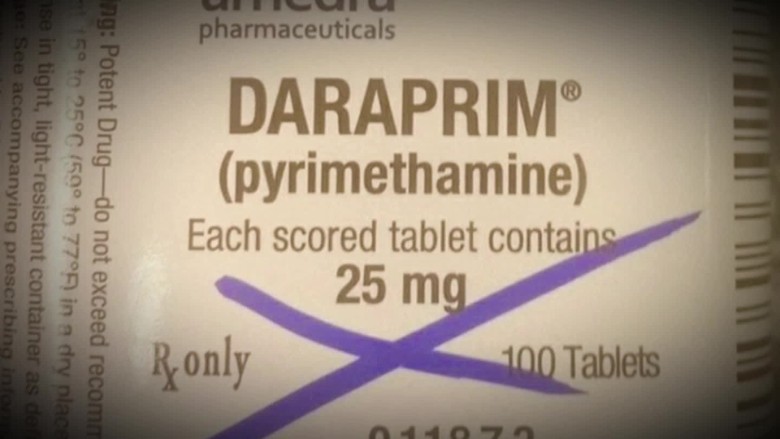 The pharmaceutical company that increased the price of a drug used by AIDS and cancer patients 5,000% is slashing the price it will charge hospitals.
Turing Pharmaceuticals said it will offer hospitals Daraprim at up to 50% off the list price. It said hospitals are the first to use Daraprim to treat 80% of patients who have parasitic toxoplasmosis encephalitis, the most common form of toxoplasmosis in the United States.
About a quarter of all American adults are infected with the parasite, though very few exhibit any symptoms at all, according to the National Institutes of Health. But toxoplasmosis can be fatal to those with compromised immune systems, such as people with AIDS.
The Daraprim price cut comes after Turing CEO Martin Shkreli said the company would lower the costs for patients after it raised its list price from $13.50 a pill to $750 a pill.
"We've agreed to lower the price of Daraprim to a price that is more affordable," Shkreli told ABC World News Tonight in September.
Still, even a 50% discount would only bring the price for hospitals down to $375 per 25 mg pill.
The typical Daraprim dosage is between 50 mg and 75 mg a day for one to three weeks and can be followed by an additional 25 mg a day for four to five weeks if needed, according to the FDA. So even with the discount, a normal course of treatment for toxoplasmosis could cost between $5,200 and $36,700.
Most patients with health insurance won't actually pay that rate. Prescription insurance giant Express Scripts (ESRX) says its customers will only pay a "small portion" of Daraprim's total cost, even after the huge price hike.
Turing said it would offer smaller bottles of 30 tablets to make it easier and cheaper for hospitals to carry the drug, and free sample packages for doctors needing to treat patients in emergency situations. The company estimates that "nearly all patients will receive Daraprim for $10 or less out-of-pocket per prescription."
"We pledge that no patient needing Daraprim will ever be denied access," said Nancy Retzlaff, Turing's chief commercial officer, in a statement.
Daraprim is available in other countries for less than $1 a pill. The World Health Organization has included Daraprim on its list of essential drugs. Last month, pharmaceutical company Imprimis said it would compound a generic alternative to the drug for $1 a capsule.
While Turing is dropping the price for hospitals, it is not reducing the list price of Daraprim at pharmacies, because that would not help patients, Retzlaff said.
Healthcare professionals and patients had told the company it needs to keep out-of-pocket costs low, offer patient assistance programs and make Daraprim available for hospitals to treat the most vulnerable patients, she said.
The initial price increase caused a public outcry. Democratic presidential candidate Hillary Clinton tweeted, "Price gouging like this in the specialty drug market is outrageous."
The Daily Beast declared Shkreli "the most-hated man in America."
Daraprim is used to treat toxoplasmosis, which the Mayo Clinic indicates is a disease caused by one of the world's most common parasites. Toxoplasmosis causes flu-like symptoms in patients.