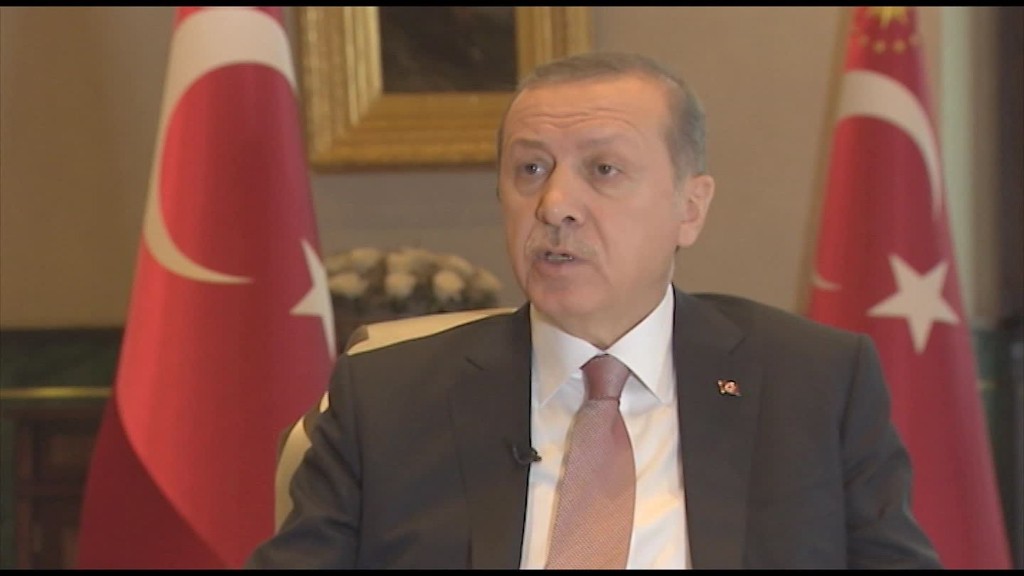 A war of words has erupted after Turkey shot down a Russian warplane on Tuesday.
Russian President Vladimir Putin called the downing of the jet a "stab in the back by the terrorists' accomplices." His Turkish counterpart Recep Tayyip Erdogan accused Moscow of deceit, and described Putin's comments as a "huge mistake" in an interview with CNN on Thursday.
Russian officials are drawing up possible retaliatory economic sanctions against Turkey. But a trade war would cost both sides dearly. Here's why:
1. Russia has few friends
Russia doesn't have many business friends on the international scene. Turkey was one of the few partners it could rely on.
Turkey did not join Europe, the United States and other Western countries in imposing economic sanctions on Russia over its role in the crisis in Ukraine. The NATO country was actually planning to boost the volume of trade with Russia threefold to $100 billion by 2020.
Escalating tension between the two countries could severely damage that relationship.
Russia said Thursday it was tightening controls on food and agricultural imports from Turkey. And the state consumer protection agency said it had concerns about the quality and safety of clothing, furniture and cleaning products originating in Turkey.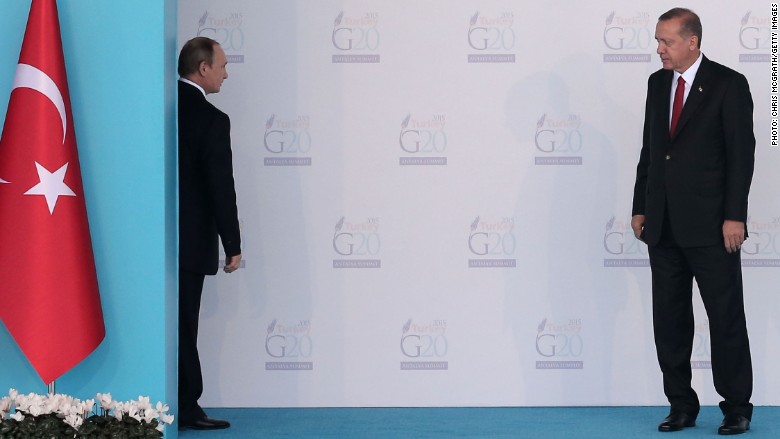 2. A strategic energy link
The two countries signed a series of strategically important energy deals just a year ago. Chief among them was the Turkish Stream project -- a plan to build a new pipeline to carry Russian gas to Turkey, and then to the huge European market. It is set to replace the South Stream project, which was supposed to run through Ukraine but was canceled last year.
Turkey is the second largest buyer of Russia's natural gas, behind Germany.
Russia is also building Turkey's first nuclear power station, located in Mersin on the south coast of the country. Construction started in April and is expected to be completed by 2020. Under the agreement, signed in 2010, Russia will finance the $22 billion project and then operate the plant.
Both projects could be subject to sanctions, Russian economy minister Alexey Ulyukaev said Thursday.
Related: Turkey's election rally could be short-lived
3. Tourist traffic
Russian visitors are crucial for the tourism industry in Turkey.
Around 4.5 million Russians visited the country in 2014, and official Turkish data show that more than 12% of all visitors were Russian, making them the second biggest group after Germans.
Putin has advised Russians not to visit Turkey in the aftermath of the downing of the plane, and Russia's Federal Agency for Tourism told travel agents to stop selling tours to the country.
And with Egypt out of bounds after a Russian airliner was blown up shortly after taking off from the resort of Sharm el Sheikh last month, Turkey may have won even more tourist business. That appears less likely now.
4. Both need all the help they can get
Both countries are already suffering huge economic turmoil and urgently need a boost, not another shock.
Russia's economy has been slammed by low oil prices and Western sanctions. The International Monetary Fund expects Russian GDP will shrink by 3.8% this year, and by another 0.6% in 2016.
Turkey is not in the best place either. Months of political deadlock after an inconclusive election in June weighed on activity. Growth has slumped in recent years. The IMF expects the economy to grow by just 3.1% this year and 3.6% in 2016 -- way below the 9% it experienced in 2010 and 2011.
The lira has fallen by about 20% against the dollar this year. That's making it more expensive for Turkey to service $125 billion in short term foreign debt.