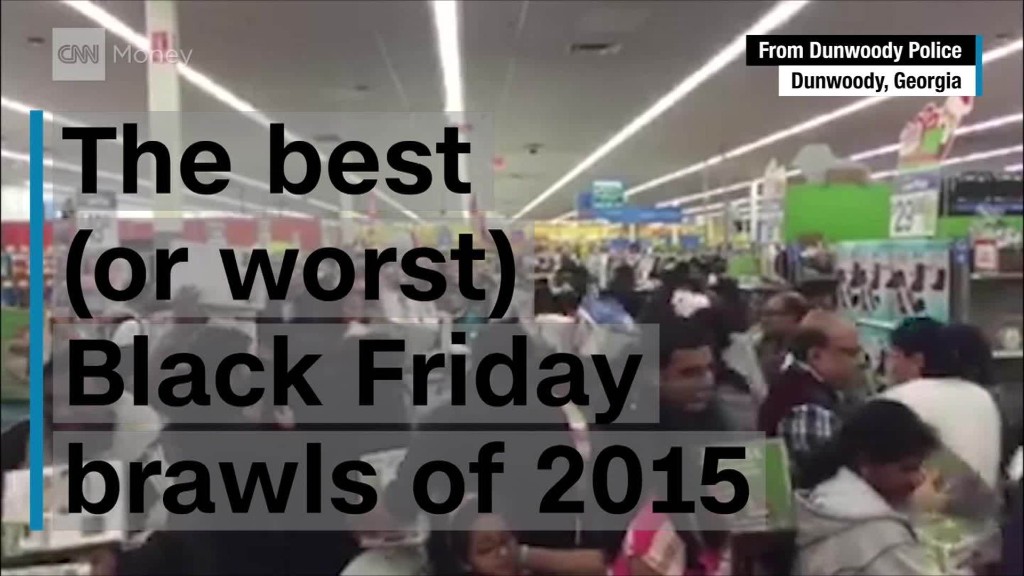 Cue the bargain hunters: The Black Friday shopping marathon has begun.
Millions of people are participating in retail's annual event, which began again this year on Thanksgiving. And, of course, most markdowns are available online.
An online sales report from Adobe said more than $1.7 billion was spent online on Thursday, which is a 25% increase from Thanksgiving Day last year.
The most popular products included Star Wars and Lego toys, iPad Air 2, Xbox and PlayStation 4.
The Pie Face Game, used in a popular YouTube video in September, sold unexpectedly well, according to Adobe. Toys 'R' Us and Target were selling the game for under $15, but the game went fast and sites like eBay were listing the product for more than $50.
Plenty of brick-and-mortar stores opened on Thanksgiving Day: Target (TGT), Walmart (WMT), Best Buy (BBY), Toys 'R' Us, Macy's (M), Kohl's (KSS), RadioShack and Kmart, among them.
Other stores waited until Friday morning. That list includes H&M, T.J. Maxx, Staples (SPLS), Barnes & Noble (BKS), GameStop (GME), Bed Bath & Beyond (BBBY) and Babies 'R' Us.
National Retail Federation CEO Matthew Shay said on Friday mobile and web promotions helped boost online sales, and that stores attracted lines of customers by offering "unforgettable in-store experiences."
The good news for retailers is that shoppers are ready to spend 25% more this year than last -- or an average of $369 each. That's according to a survey from consulting firm Deloitte. Reports on how many people shopped, and how much they spent, will be coming out over the next several days.
Adobe predicted online Black Friday sales would total about $2.6 billion, which is slightly lower than anticipated, though data from the first hours of the day indicated spending was up 15% from last year.
IBM's live online sales tracker indicated average order value was about $140.
The bad news: Videos filled social media with the bad behavior of some shoppers pushing, hitting, even kicking one other -- or store security personnel -- to get the hot items in limited supply.
One cell phone video from St. Mathews, Kentucky, just outside of Louisville, showed two men in a mall food court slugging it out. St. Mathews police said that no arrests were made.
Best Black Friday deals of 2015
Walmart pledged many online deals this year; its Black Friday sales started online at 3 a.m. Thursday. But many shoppers still opted to brave the store in person.
In the suburban town of Wallingford, Connecticut, hundreds of people were at Walmart shortly before the store kicked off its sale deals at 6 p.m. Thursday.
Some shoppers wandered through the aisles, looking at deeply discounted clothing and home goods. But many gathered in organized lines snaking through the aisles -- hoping to snag one of the tablets, flat-screen TVs and other electronics that dominated the store's Black Friday ad.
Some of the most popular items included: a 32-inch Roku TV for $125, a 7-inch RCA Tablet for $28.88 and a Nintendo Wii U bundle for $249. Meanwhile hundreds of people were waiting in line for the chance to buy a variety of video games and DVDs -- some at 50% off or more.
A handful of local police officers patrolled the store, along with dozens of employees -- many donning festive reindeer ears. Still, the crowds were relatively orderly as they waited around the store in lines roped off with yellow caution tape.
Some people at the Wallingford Walmart told CNNMoney they had long been devoted Black Friday shoppers. In more recent years they ventured out Thursday evening after Thanksgiving dinner as Black Friday continued to encroach on the holiday.
"We do it every year," said D.J. Culver, 32, as he waited in line to buy himself the $28.88 tablet. "You really can't beat some of the deals."
2015 trend: 'self-gifting' is on the rise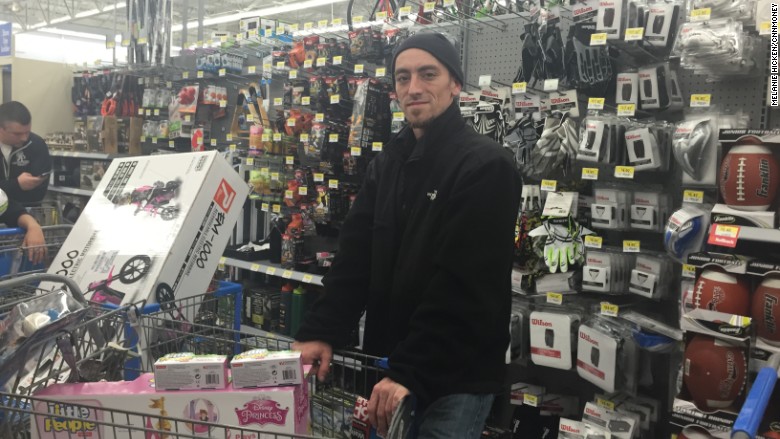 Culver and his friend had already hit Big Lots and Family Dollar before ending up at Walmart. Still, he said he had time to eat two Thanksgiving meals with family earlier in the day.
Others said they had only been driven to the store by a particular deal.
"I have mixed emotions," said Mary Naccarato, who came to the store with her two teenage daughters in search of $200 in savings on the new iPhone 6s. "I passed up dessert with my family to do this."
Seconds later, she learned from an employee that the store may not have any more of the phone in stock. While a few sale items were covered by a "1-hour guarantee," most had limited quantities -- meaning some shoppers left the store empty handed.
Related: Final Black Friday at Times Square Toys "R" Us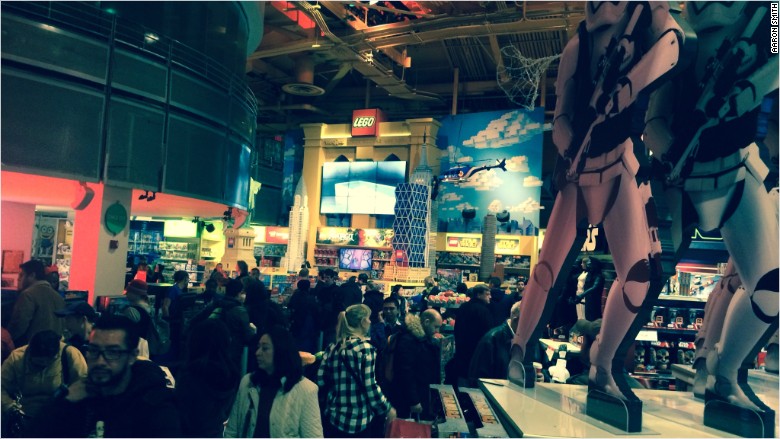 In Manhattan, crowds came out in droves to the Times Square Toys "R" Us' final Black Friday. The store has been in Times Square since 2001, but it's not renewing its lease after it runs out in January 2016.
The place was so packed with shoppers that it was hard to move. Rosa Medina of The Bronx hauled three massive tote bags filled with toys for her toddler son, including Avengers like the Hulk and Captain America but not Mega Buster, which was sold out. She planned to hunt him down on Cyber Monday.
Medina said that Black Friday was rife with deals, with many toys at half price or 60% off. But Nikki Jones of Scotland, a vacationer who had dropped in to get some Paw Patrol toys for her toddler son, said it wasn't worth it because of the crowds.
"I can't stand it," she said, while waiting in line for the cashier. "It's too busy."
While stores like Walmart and Toys "R" Us embrace the Black Friday tradition, shoppers shouldn't plan on heading over to REI. The outdoor and fitness gear retailer announced it will be closed on the biggest shopping day of the year.
The ultimate holiday shopping guide