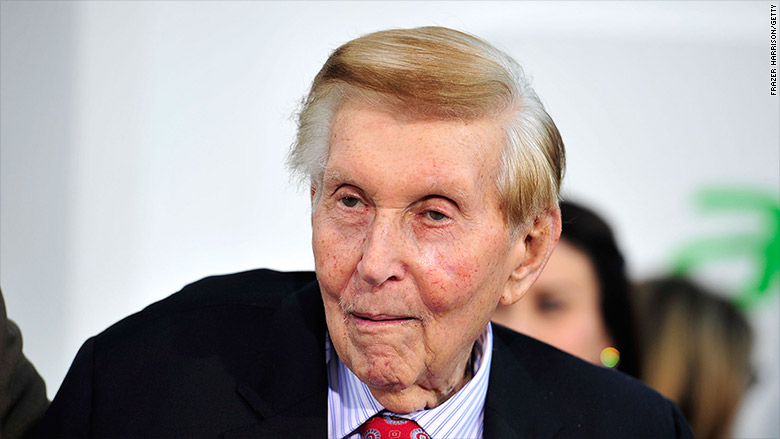 Sumner Redstone, the aging media mogul who controls Viacom and CBS Corporation, is a "living ghost" who is practically unable to make decisions for himself, according to allegations leveled in legal filings.
A court hearing is scheduled for Monday in an ongoing dispute over the 92-year-old billionaire's care. Redstone is widely believed to be in poor health, but the details of his condition have been hotly disputed.
Last month, Redstone made Viacom (VIA) CEO Philippe Dauman his "agent" by signing an "advance health care directive" document, thereby removing Redstone's ex-girlfriend Manuela Herzer.
In a lawsuit filed on Wednesday, Herzer said Redstone "lacked the mental capacity" to do so. She is seeking control over his health care decisions.
Last month's directive document shows that Redstone's name is signed with an illegible scrawl, according to an image of it reported by the Wall Street Journal.
According to an extensive report in Vanity Fair last spring, Redstone's two girlfriends, Herzer and Sydney Holland, had been "managing more and more of Redstone's life" while his health has been in decline.
But Redstone apparently broke up with Holland and Herzer earlier this fall, according to news reports, which triggered new interest in his estate and questions about his condition.
Herzer's suit -- filed in Los Angeles County Superior Court -- also described Redstone as "vacant, expressionless and out of touch," basically unable to talk, "cannot walk or stand by himself," and yet "fixated on having sex on a daily basis."
Redstone's lawyers, his physician and Dauman disputed many of Herzer's claims in other legal filings on Wednesday. Numerous media reports this week on the court fight made the text of the documents widely available online.
Dauman described Redstone as "engaged and attentive" when the two men spent time together earlier this month.
"Sumner told me that Manuela has been threatening to litigate, and that all she wants is his money," Dauman asserted.
And Gabrielle Vidal, an attorney for Redstone, said in a statement that "Ms. Herzer's claim that she filed this lawsuit out of concern for Mr. Redstone is preposterous.
"It is a meritless action," Vidal said, "riddled with lies, and a despicable invasion of his privacy. It proves only that Ms. Herzer will stop at nothing to pursue her personal financial agenda."
A Viacom spokesman declined to comment.
Viacom and CBS (CBS) investors are anxious for answers, particularly given the cloak of secrecy around any possible succession plans at Redstone's companies. Redstone has always insisted that he is never going to retire.
The legal documents were filed on Wednesday. When the market reopened on Friday, Viacom stock dropped about 2.2% and CBS stock dropped about less than 0.5%.