Raspberry Pi has raised the bar on low-cost computing again.
The UK-based educational nonprofit released a new, tiny computer on Thursday for $5, the Raspberry Pi Zero, and sold out of it online within a day.
That's $30 cheaper than its original Raspberry Pi model, which went on sale in 2012. And $4 less than the CHIP, which raised more than $2 million on Kickstarter earlier this year.
"We were amazed at the rush on stores that happened as soon as we announced the release," Liz Upton, Raspberry Pi's head of communications, told CNNMoney in an email.
Raspberry Pi even gave away 10,000 devices for free with a copy of its December magazine, The MagPi. Issues of the magazine are now sold out too.
"More Zeroes are being built at the moment and we'll keep making them, but we think it's going to be a little while before we'll be able to keep up with demand!" Upton said.
So why all the fuss?
The Raspberry Pi made a name for itself as the maker of the world's smallest and cheapest computer in 2012. Essentially, Raspberry Pi computers are just motherboards that can be built to power robots, and used to create connected devices.
Like the foundation's first two products, the Raspberry Pi Zero is intended mainly to help people learn to program computers in an affordable way.
Upton says all the profits "go straight back into free learning resources, training teachers, running Code Clubs and getting kids involved with computing."
The Raspberry Pi Zero is smaller than a mustard packet and light enough to be held up by two Lego figures.
To use it, you'll have to add your own monitor, keyboard, power source and data storage, via a micro-SD card slot.
But with a 1-gigahertz processor and 512 megabytes of RAM, it packs as much computing power as the iPhone 4. There's even a mini-HDMI socket so you can play HD videos.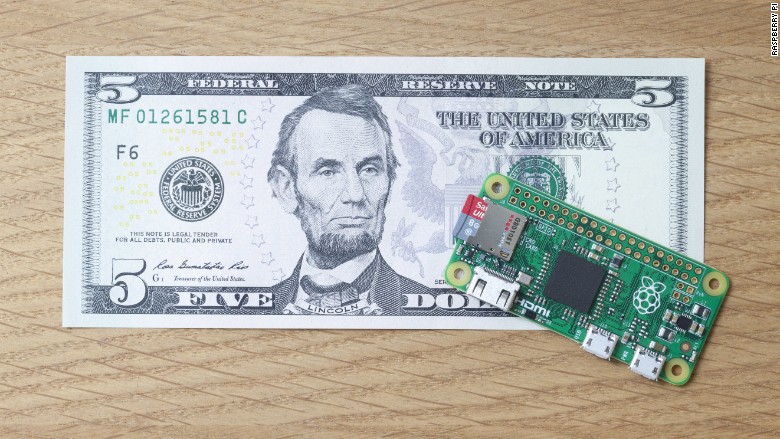 The mini-computer runs a version of Linux called Raspbian, as well as applications that teach coding skills -- such as Minecraft, Scratch and Sonic Pi.
Over the past few years, Raspberry Pi has spawned a number of other low-cost computers that help teach people how to program and code.
Kano, for example, is a build-it-yourself computer kit that actually uses Raspberry Pi as its brains.