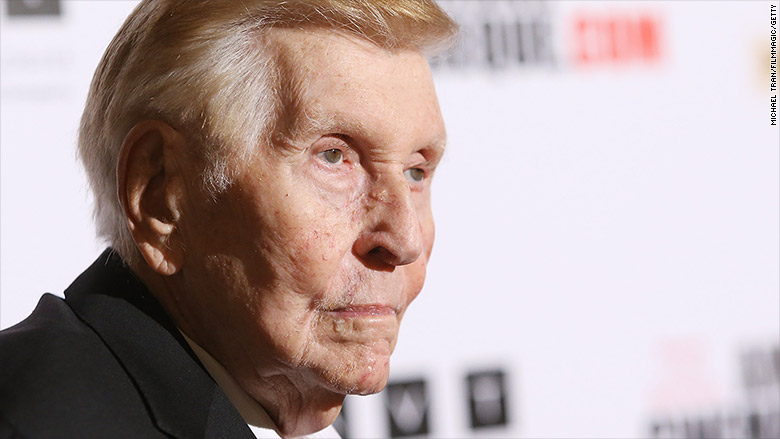 A judge declined Monday to immediately grant a motion brought by Sumner Redstone's ex-girlfriend that would have expedited legal proceedings in the tug-of-war over who should be in charge of the aging mogul's personal care.
Manuela Herzer's legal team had sought a ruling for an accelerated schedule for what is expected to be a complicated legal battle over the care of Redstone, 92, the chairman of Viacom (VIA) and CBS (CBS).
Los Angeles Judge Clifford L. Klein said he had concluded there was no urgency in the matter based on four criteria: Redstone has a personal physician, that he doesn't have many critical health crises for his age, that he has full time health care, and that his health agent is an attorney from Viacom.
Both sides will return to court on Jan. 27 when the court will consider Herzer's request as well as Redstone's motion to dismiss Herzer's petition. The judge's ruling says there will be no discovery -- which would likely include having Herzer's lawyers interview Redstone -- until after that hearing.
At one point during Monday's hearing, Redstone lawyer Gabrielle Vidal told the court that Redstone "continues to make his own healthcare decisions."
After the ruling Vidal said she was "pleased the court today expressly rejected Ms. Herzer's claims of urgency."
Herzer's attorney, Pierce O'Donnell, said he was "pleased" that Klein did not dismiss her petition as Redstone's lawyer had requested.
Neither Redstone nor Herzer were present in the courtroom.
Last month, Redstone made Viacom CEO Philippe Dauman his "agent" by signing an "advance health care directive" document, thereby removing Herzer.
In a lawsuit filed last week, Herzer said Redstone "lacked the mental capacity" to do so. She is seeking control over his health care decisions.
Last month's directive document shows that Redstone's name is signed with an illegible scrawl, according to an image of it reported by the Wall Street Journal.
Redstone apparently broke up with Herzer earlier this fall, according to news reports, which triggered new interest in his estate and questions about his condition.
Related: Competency of Viacom billionaire Sumner Redstone questioned
Herzer's suit -- filed in Los Angeles County Superior Court -- also described Redstone as "vacant, expressionless and out of touch," basically unable to talk, "cannot walk or stand by himself," and yet "fixated on having sex on a daily basis."
Dauman in court papers described Redstone as "engaged and attentive" when the two men spent time together earlier this month.
Vidal said in a statement last week that "Ms. Herzer's claim that she filed this lawsuit out of concern for Mr. Redstone is preposterous.
"It is a meritless action," Vidal said, "riddled with lies, and a despicable invasion of his privacy. It proves only that Ms. Herzer will stop at nothing to pursue her personal financial agenda."
A Viacom spokesman has declined to comment.
Viacom and CBS investors are anxious for answers, particularly given the cloak of secrecy around any possible succession plans at Redstone's companies. Redstone has always insisted that he is never going to retire.
CNNMoney's Brian Stelter contributed to this report
Editor's Note: This story was updated to more accurately reflect the scope of the ruling. The request for an expedited legal process, as well as Sumner Redstone's request to dismiss the petition, will be back in court in January.
Sign up for the Reliable Sources newsletter — delivering the most important stories in the media world to your inbox every day.