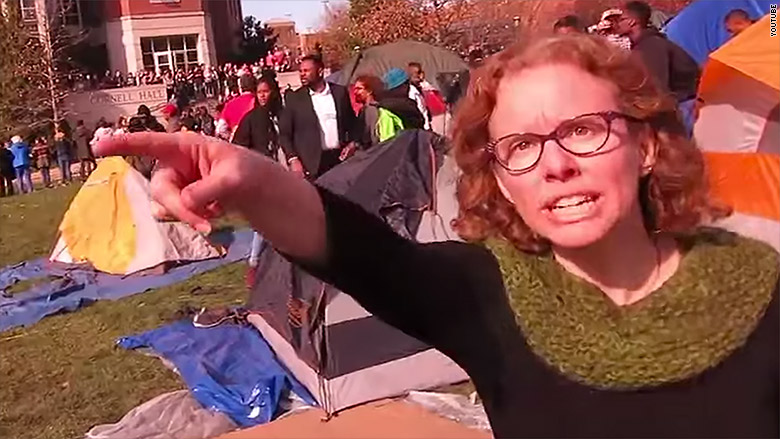 University of Missouri communications professor Melissa Click was sharply criticized last month after she was filmed blocking media access to a campus protest.
She suffered professional fallout, too, resigning from her courtesy appointment at the university's prestigious journalism school.
Since then, Click has been waiting to hear if police would press charges against her after a photographer filed a complaint against her.
On Tuesday, that photographer said he offered Click a way out of the police investigation.
Mark Schierbecker, the University of Missouri student who filmed the incident and filed a complaint against Click alleging simple assault, told CNNMoney that he would be willing to "just drop the whole thing" if the professor agrees to discuss the controversy with him on a local radio station.
Related: Missouri professor who blocked media at protest apologizes
"She would have the opportunity to apologize if she felt the need to, and she could give her perspective on this," Schierbecker said. "Taking this all the way up to the municipal court has never been something I've looked forward to doing."
On Tuesday, Schierbecker met with Stephen Richey, the city prosecutor in Columbia, Missouri, to discuss the possible charges.
Schierbecker said that Richey told him that investigators are still trying to obtain documents that are relevant to the investigation. Richey did not respond to multiple requests for comment.
According to Schierbecker, the two discussed "extralegal ways of handling this," including the opportunity for Click to address the controversy on the radio.
Related: Missouri police mulling charges against professor Melissa Click
"What we would just like her to do is go on the record and end her silence on the matter," Schierbecker said. "That's something we would prefer."
Video of Click went viral last month during the protests over racism on the University of Missouri campus. In Schierbecker's video, Click can be seen blocking media from the demonstration.
"Who wants to help me get this reporter out of here?" she said in the clip. "I need some muscle over here."
Schierbecker said he hasn't heard from Click since she apologized to him in-person the day after the footage went public.
Click did not respond to a request for comment.