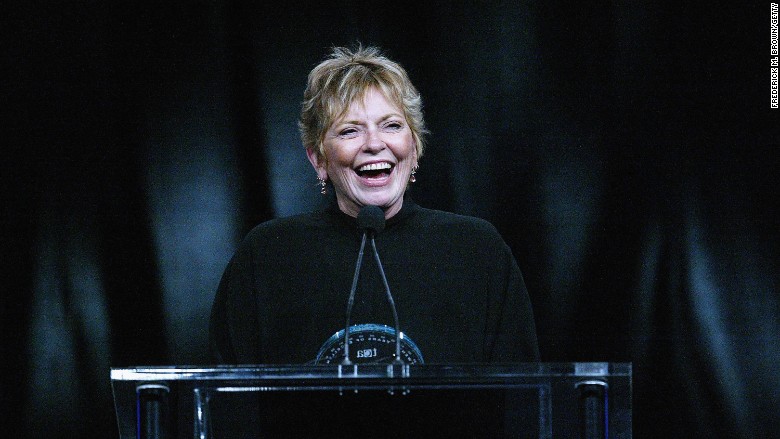 It's the end of an era for Nickelodeon fans.
Linda Ellerbee, the long-time anchor of Nick News, will be signing off after 25 years, the network announced on Tuesday.
Ellerbee, 71, will be saying goodbye with an hour-long special called "Hello, I Must Be Going: 25 Years of Nick News with Linda Ellerbee." It will air on December 15.
The special will act as a "retrospective series finale documenting the longest-running kids' news show in television history," according to Nickelodeon.
The network spokesman said, "Nick News will not continue in its present format, but that Nickelodeon will continue to have a dialogue with its audience on public affairs and news issues as they arise."
The Associated Press was first to break the news on Tuesday morning of Ellerbee's retirement.
"It's really nice to be one of the few who walks away from television news on their own time and of their own choice and I'm really lucky in that," Ellerbee told the AP. "That really didn't happen for so many of my contemporaries, didn't happen because of age or cutbacks in news... I go smiling."
For millions of children, Ellerbee was the first introduction into the news world where the anchor would hold blunt discussions about big news events with kids.
Over the years, Nick News has been nominated for 21 Emmys, winning 10 and touched on topics like the Oklahoma City bombing, the HIV/AIDS crisis, and the September 11 attacks.
Before anchoring Nick News, Ellerbee had a news career at the Associated Press and on television at NBC News and ABC News where she would appear on "Good Morning America."
One of the highlights of her career was anchoring NBC's "Overnight," a news show that lasted little more than a year from 1982 to 1983. It was critically acclaimed and Ellerbee became known for her "And so it goes" sign off. But it was on the air between 1:30 a.m. and 2:30 a.m. at a time when many affiliate stations signed off for the night.
Yet, Ellerbee will arguably be best known for impact on the country's youth.
"Possibly the most important truth I take with me is the firm knowledge that you are never too old to learn from young," Ellerbee said in a statement.