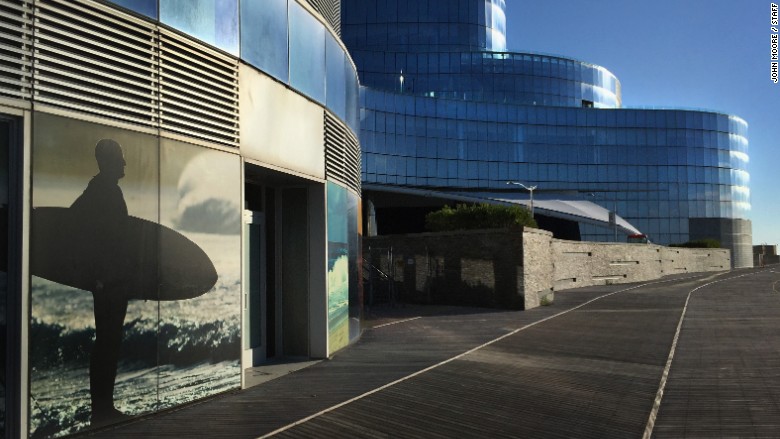 In gambling the house usually wins, but in Atlantic City it's the casinos that are facing long odds.
A new report by Moody's warns that the city could lose additional casinos in the face of increased competition, according to Moody's.
Atlantic City, known for its casino-lined boardwalk on the Jersey Shore, lost four of those gambling houses last year along with 8,000 jobs.
The New Jersey city still has eight casinos, but not for much longer, says Moody's.
"We expect more casino closures to occur in Atlantic City as some struggle to grow their business and face additional competition," said Moody's Investors Service, in a report on the gaming industry.
Moody's said that gaming revenue dropped 8% last year and three of the remaining casinos are "already on the brink," with the Trump Taj Mahal, Caesar's and Bally's having filed for Chapter 11 bankruptcy protection.
"As the number of casinos shrink, some of the remaining casinos have seen revenues increase," said Moody's. "But we expect increased competition will keep the heat on incumbents, and that number of casinos in Atlantic City will likely continue to shrink."
The casinos that have already closed down include Trump Plaza, Showboat and Revel, a slick-looking gambling house of gleaming glass that targeted high-end gamblers but didn't last two years.
Related: Trump to Atlantic City casinos: 'You're fired!'
The Atlantic City gambling industry faces increased competition from casinos opening up in the region. Moody's said that eight casinos are to open in New York, Massachusetts, Pennsylvania and Maryland by the end of 2018.
The first of the new casinos, MGM National Harbor, is scheduled to open in Maryland, near Washington, D.C., in the fall of 2016.
The surge is being driven by an increase in government approval of gambling licenses "in a bid to keep more casino tax dollars within state borders," said Moody's.
Ohio is one of the more aggressive states, having approved 11 casinos since 2012.
The increase in casinos is putting the pressure not just on Atlantic City, but existing casinos in Pennsylvania, Maryland, Rhode Island and New York, according to the report.