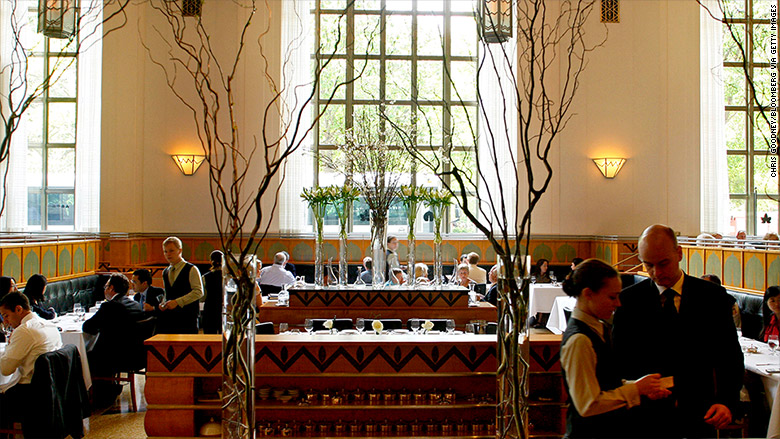 Diners at one of Manhattan's priciest restaurants will no longer be expected to leave a tip at the end of their meal.
Eleven Madison Park, located in New York's Flatiron District, has decided to eliminate gratuity and raise its menu prices by 31% to include service.
Starting next year, a meal will cost $295, plus $170 for wine pairing at the three-Michelin-star rated restaurant, bringing the total to $465 per person, not including tax. The restaurant offers a seasonal tasting menu, which includes 12-15 courses and costs $225.
The move is aimed at closing the pay disparity between the tipped workers in the dining room and non-tipped kitchen staff, explained Will Guidara, co-owner of Eleven Madison Park and The NoMad.
"There is excitement and appreciation from the kitchen staff for the (on average) 15% raises they'll be receiving. In the dining room, there is a foundation of trust, but, expectedly, some trepidation, as changes to one's compensation can be a scary thing," he told CNNMoney in an e-mail.
He added that 90% of the 150-person staff will be impacted by the new compensation plan.
Related: Could this be the end of tipping?
While still small, the no-tipping movement has been gaining traction and tends to be more common among high-end restaurants.
But last month, Joe's Crab Shack announced it's been testing a no-tipping model in 18 restaurants across the country. It's the first major chain to make the change. Front-of-house workers at the selected establishments earn around $12-$14 an hour, with some earning more.
In October, the Union Square Hospitality Group, which operates more than a dozen restaurants, including Manhattan's Union Square Cafe and Gramercy Tavern, announced its plan to go tip free.
The group previously owned Eleven Madison Park as well. Chef Daniel Humm and Guidara bought the restaurant from USHG in 2011.
Tipped restaurant workers in New York are scheduled to get a wage increase at the end of the year. The state will raise the tipped minimum wage to $7.50 an hour from $5 on Dec. 31.