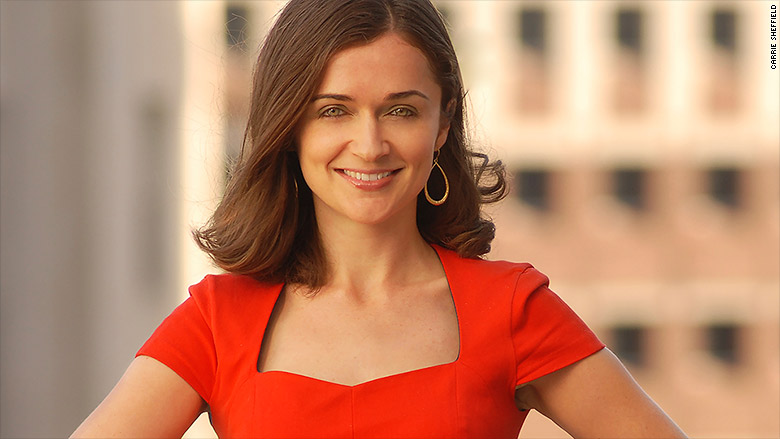 When she gazes out at the conservative media landscape, Carrie Sheffield sees an untapped audience.
Sheffield, 32, is the founder and editorial director of Bold, a right-leaning news website that went live on Monday. The site has an unusual URL (www.bold.global), but that isn't all that distinguishes it from the rest of conservative media.
Sheffield wants Bold to appeal to women, millennials, African-Americans, Latinos and members of the LGBT community -- groups that Republicans and conservatives have struggled to reach in recent years.
"There's a disconnect between these communities and the conservative movement," Sheffield told CNNMoney.
Sheffield is familiar with that disconnect. She was raised Mormon, but resigned from the church in part over its opposition to same-sex marriage.
Related: HuffPost biggest digital newsroom yet to seek union
"I think a lot of the problems that the Mormon Church has are the same as the problems the Republican Party has," she said.
She said that Bold will attempt to bridge the gap between "traditional, white America" and "diverse communities."
Sheffield, who blogs for Forbes, believes there is a market for a conservative outlet that sits between the Wall Street Journal and Fox News on the ideological spectrum.
"There is a need and people will be hungry for a voice that is moderately conservative and respectful," she said. "That's what we're going for."
Related: Coming to Gawker: Layoffs and politics
Sheffield has a litany of influences, many of which are far from conservative -- including Huffington Post, Slate and BuzzFeed.
She wants the site to be a "solid source for good reporting and good journalism," and she said it will have an "independent voice." But it isn't hard to detect its conservative streak.
The site bills itself as a platform "centered on personal responsibility and sustainable capitalism."
This week's headlines have included "Hillary Clinton Put America's Security At Risk. Why Doesn't That Bother Primary Voters?" and "We Already Have Earth Day, So Why Not Freedom Day?"
Sheffield declined to discuss Bold's funding, but she said she has drawn interest from potential investors. The site already has contributions from some prominent media figures.
Tara Setmayer, a CNN political commentator, will serve as Bold's opinion editor, while the television chef Georgia Pellegrini will be editor of the site's food section. Sheffield herself has made frequent TV appearances, and she plans to be a rotating co-host of a web show that is expected to premiere on Bold next year.
Related: Millennial-focused site lands $17 million in new funding
The show, which Sheffield described as "'The Young Turks' meets 'Morning Joe,'" will include a "high-profile" host, though she wouldn't name the celebrity.
Bold isn't the first conservative outlet to make a play at a youthful audience. The website Independent Journal (previously known as Independent Journal Review) has drawn comparisons to BuzzFeed with its slickly produced viral content aimed at web-savvy conservatives.
Sheffield called Independent Journal "impressive," but said the site has only managed to pluck "the low hanging fruit of conservative media." In other words: A readership that is old, white, male and rural.
Sign up for the Reliable Sources newsletter — delivering the most important stories in the media world to your inbox every day.