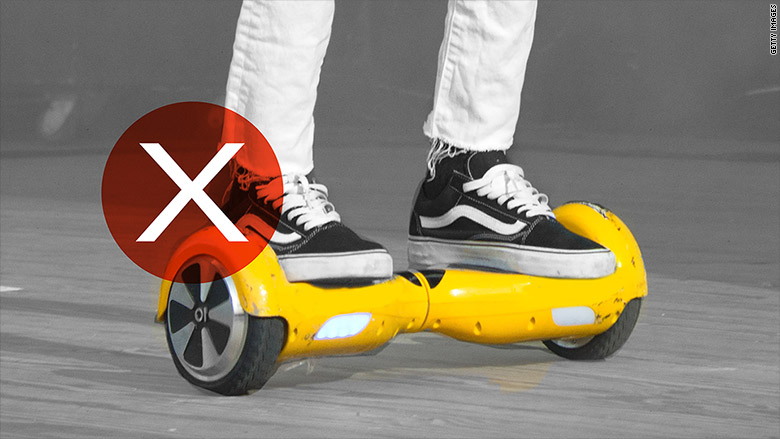 Nearly 90% of all hoverboards imported into Britain since the middle of October have been seized because they could explode.
Retailers were stocking up before the holiday shopping season, anticipating the self-propelled two-wheeled device would be one of the most popular gifts this year.
But safety officials have impounded 15,000 of the self-balancing scooters because a faulty plug "increases the risk of the device overheating, exploding or catching fire," the U.K. National Trading Standards said in a statement.
Related: Lexus reveals a hoverboard you can't buy
Most of the seized boards were bought online, to be resold online, officials said. They said the boards could overheat if left plugged in after the batteries are fully recharged due to the lack of a fuse.
"Consumers should not let a new fashion or craze cloud their judgment," National Trading Standards said.
But it's not just ones bought online that could explode. Major retailer Halfords recalled three types of "Air Runner Self Balance Boards" in November because the plugs did not meet British safety standards.
And Costco Wholesale U.K. also sent new plugs to buyers of some Air Runner boards, saying "there could be a risk of electrocution."
London police said in October that hoverboards were not permitted for use on streets and sidewalks, and could only be ridden on private property.
This hasn't stopped people using them around London.
New York State has already banned the boards as well. But California made hoverboards legal to use on bike paths starting January 1.
Enthusiasts say the boards don't go fast enough to be covered by bans on unlicensed motorized vehicles.