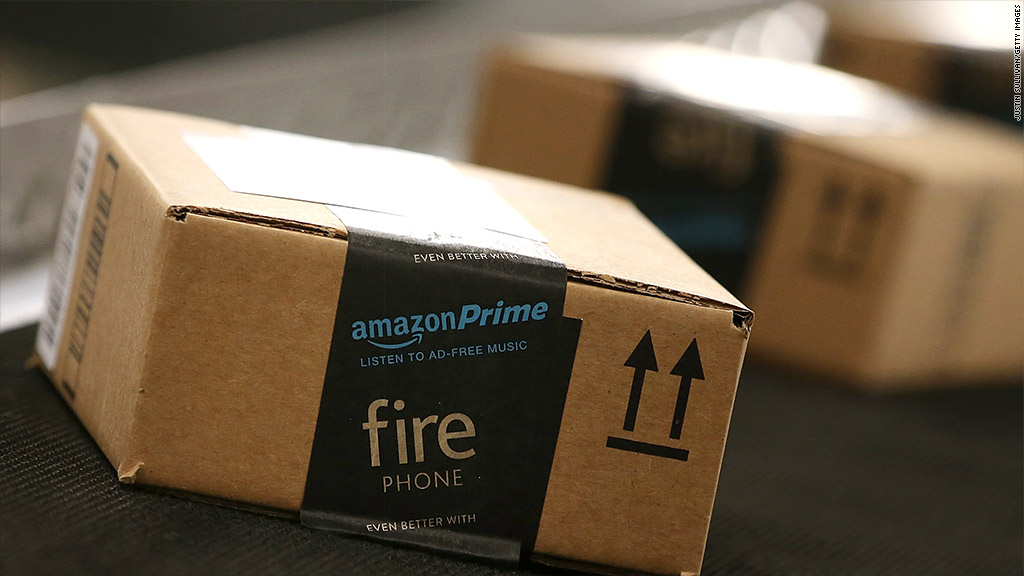 Should Barnes & Noble just rename itself Amazon's Showroom?
The book and music retailer said sales fell again in its most recent quarter. It also reported a bigger loss than last year -- and more red ink than what analysts were expecting.
Perhaps most alarmingly, Barnes & Noble's long-term debt tripled from a year ago to $192 million. The company has only $13.4 million in cash -- down from $32 million a year ago.
Shares of Barnes & Noble (BKS) plunged more than 20% on the news and are now down nearly 40% this year.
Barnes & Noble has struggled for years to compete (say the rest of the sentence like it's a movie trailer) IN A WORLD WHERE CONSUMERS HAVE GONE MAD FOR SHOPPING ONLINE AT AMAZON.
Amazon (AMZN) has revolutionized retail -- and it all started with books and CDs. (Remember them?)
Barnes & Noble's efforts to keep up with Amazon have mostly been in vain. The company said online sales actually fell 22% in its most recent quarter after it launched a new website that had some notable glitches.
And the company's Nook e-reader -- a competitor to Amazon's Kindle -- has been a huge flop. Nook sales (which include digital books as well as the devices) plunged nearly 32% from a year ago.
Interestingly, nobody talked about Amazon specifically during a conference call with analysts. Perhaps analysts have learned not to mention Amazon -- sort of like "the war" to the German guests in that episode of "Fawlty Towers."
Related: Can Barnes & Noble survive?
It will be an uphill battle for Barnes & Noble to turn things around -- especially since there has been so much instability in the executive suite during the past few years.
Steve Riggio, brother of Barnes & Noble founder and largest shareholder Leonard Riggio, left in 2010. He was succeeded by William Lynch, who was previously the company's president.
Lynch was gone by summer 2013. CFO Michael Huseby replaced him.
But Huseby resigned last summer to take over Barnes & Noble Education (BNED), the college bookstore unit of Barnes & Noble that the company decided to spin off instead of Nook.
Barnes & Noble's latest CEO is Ron Boire, who left Sears Canada (SRSC) to take the job.
Four CEOs in five years. Sounds a lot like Yahoo (YHOO). How's it doing?
Related: Retail stocks are in the red, except ...
Boire and Barnes & Noble CFO Allen Lindstrom did their best to put a positive spin on the company's latest results during a conference call with analysts.
Lindstrom said the company often racks up more debt in advance of the holiday shopping season.
But this year's debt load was bigger than usual because it had to pay severance charges to Huseby. Barnes & Noble also bought out the stakes that Microsoft (MSFT) and book publisher Pearson (PSO) had in the Nook business last December.
Lindstrom said the company typically pays off a big chunk of its debt early on in the calendar year with proceeds from its holiday sales.
Those sales may be decent -- but not fantastic.
Boire said same-store sales were up 1.1% in the current quarter through Black Friday. (That excludes Nook, which dragged overall sales down.) Boire added that online sales improved between Black Friday and Cyber Monday, however.
The company has to fix its online problems. Boire said that the search functions need to improve on the site and that it needs a faster checkout experience. He stressed that online is a great opportunity for the company.
Still, Barnes & Noble isn't giving up on brick and mortar.
Boire touted several in-store promotions by the company that appear to be catered to hipster Millennial shoppers.
It recently held a "Mini Maker Faire" focusing on 3-D printing.
Related: Crayola launches its first coloring books ... for adults
Boire also said that "Barnes & Noble has been at the forefront of the coloring book trend" and had an event called "All-American Art Unwind" to highlight it. (Favorite Crayola color anyone? Mine was always burnt sienna.)
Barnes & Noble is also taking advantage of the vinyl record resurgence. And Boire noted that first-day sales of Adele's new album "25" were the largest in the company's history.
So it looks like Barnes & Noble should be able to avoid the fate of rival Borders -- which declared bankruptcy and subsequently closed up shop in 2011. For now at least.
The company is also buying back stock and paying a dividend to keep investors happy.
But not even Adele may be able to restore Barnes & Noble to its former glory. Wall Street is saying goodbye instead of hello.