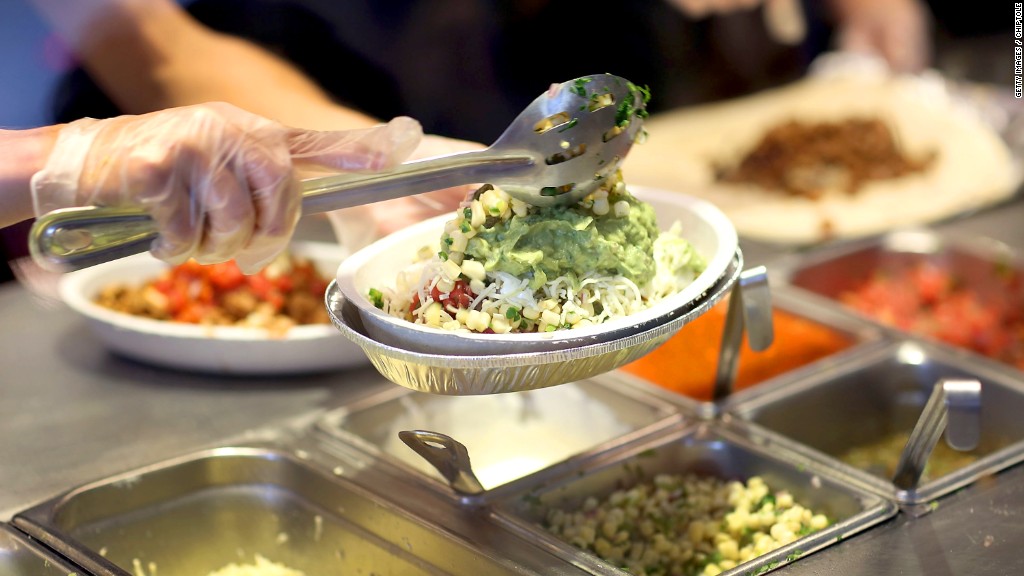 Chipotle released new details about its E. coli outbreak that sent its stock sharply lower.
Shares fell 7% in after-hours trading when the chain said that 4th quarter sales are expected to fall at least 8%.
The company noted in an SEC filing that sales have fluctuated a great deal along with developments in the E. coli outbreak -- falling when stores closed, but rebounding when they reopen.
"Future sales trends may be significantly influenced by further developments, including potential additional announcements from federal and state health authorities," Chipotle (CMG) said in the filing.
According to the CDC, the E. coli outbreak affected more than 50 people in nine states -- California, Minnesota, Ohio, New York, Oregon, Illinois, Pennsylvania, Maryland and Washington.
Related: E. coli recall affects major retailers across the U.S.
The restaurant also said that it's lowering its 2016 sales projections.
In addition, Chipotle said it expects to spend between $6 million and $8 million to replace food, send food samples for analysis, test restaurants and consult with advisers. That estimate doesn't include legal costs.
"As a restaurant company, nothing is more important to us than serving our guests food that is delicious and safe to eat," Chipotle said. "Since this incident began, we have significantly increased our efforts to ensure that our teams are adhering to all of our food safety protocols."
Chipotle also discussed some of the new measures it's undertaken to improve safety and quality, including more extensive food testing and improved training.