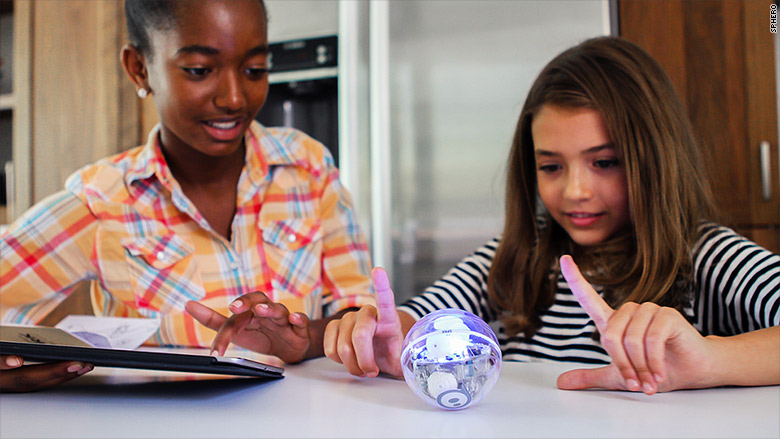 BB-8 put Sphero on the map.
The Boulder-based startup invented this year's hottest Star Wars toy: a pint-sized robot called BB-8 that's based on the rolling droid character in the upcoming movie "Star Wars: The Force Awakens."
But before BB-8, Sphero was quietly making waves with another innovation.
Sphero (also the name of its first toy) is an app-controlled robotic ball that debuted in 2011.
Unremarkable on the outside, the real magic is inside where there's a motor (it can roll up to 4.5 miles per hour in any direction), circuit board, a gyroscope and LED lighting.
It's also waterproof and can do tricks as it rolls off ramps -- and that's just the start. Kids can use a corresponding app to program other functions into it.
The potential to use Sphero as a creative tool immediately captured Sam Patterson, a teacher in Palo Alto, California.
His role is to help teachers integrate technology in grades K-5. This put him front and center when his school introduced Spheros in its classrooms several years ago.
Related: Star Wars new droid BB-8 is yours
"Robots can help facilitate situations where kids are discovering and learning at the same time," he said.
Each class uses about a dozen Spheros and has iPads so the kids can control the robots.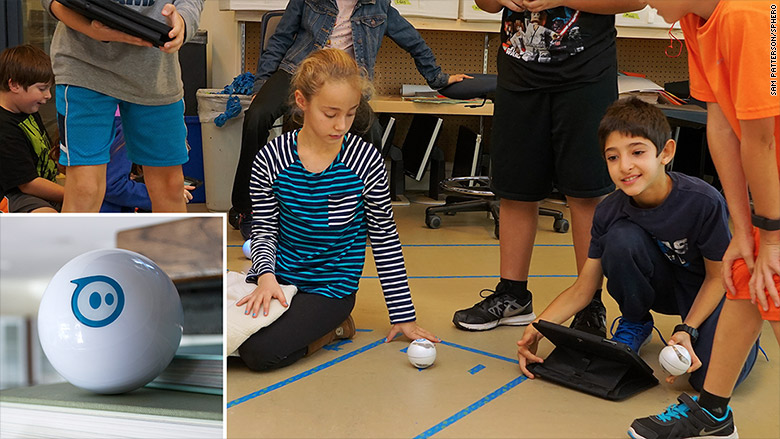 "A fun way to teach [kindergarteners] their alphabet is to have Sphero trace out letters in rice or sand," he said.
First and second graders, meanwhile, are given more complex challenges like programming the robot to draw a triangle, square or circle.
Patterson used Spheros to explain abstract concepts like "inclined planes." He gave each student a small ramp and asked them to make their Spheros roll up it. Students figured out for themselves that the robotic balls could travel further if the ramp was at a lower angle or if they sped it up.
Related: The hottest new Star Wars toys
Sphero CEO Paul Berberian said he's excited to see how teachers are embracing Sphero. He said more than 5,000 teachers in 15,000 schools are already using the robot to augment their lessons.
Spotting an opportunity, the startup created a new, transparent, robot called Sphero SPRK Edition and launched a series of free lessons for educators and students.
But the robots aren't cheap -- both the SPRK Edition and Sphero cost $130. (Berberian said they offer discounts to schools.)
Berberian said he's amazed at the far-reaching impact that Sphero's robots can have. One story especially resonates with him.
"We know of an autistic 14-year-old boy in Australia who didn't speak," he said. "But when he started playing and engaging with Sphero, he started to use words because he was trying to command it with his voice. That's remarkable."