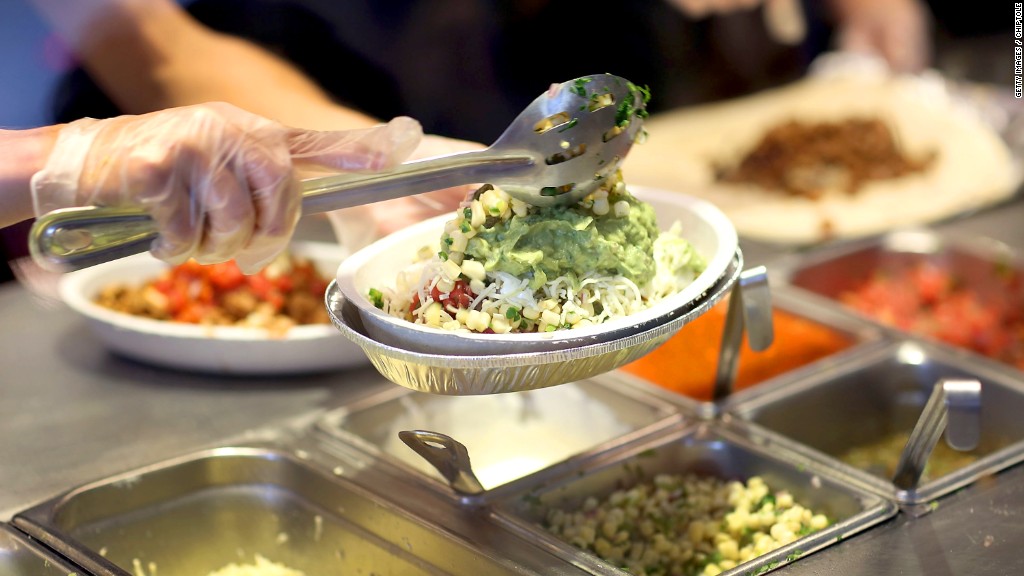 Suffering sofritas! It looks like Chipotle's E. coli problems are much more serious than investors first thought.
Chipotle warned in an SEC filing after the closing bell Friday that same-store sales may plunge as much as 11% and profits could fall 26% in the fourth quarter because of an E. coli outbreak that appears to have its roots at the popular Mexican food chain.
Shares of Chipotle (CMG) tumbled as much as 8% in early morning trading Monday on the news before recovering a bit.
The stock fell further following a report that some Boston College athletes become sick after eating Chipotle surfaced. Shares were down 6% in premarket trading on Tuesday.
At least 13 Wall Street analysts cut their price target on the stock Friday or Monday morning, according to FactSet Research.
The stock, which has been a favorite on Wall Street since its IPO in 2006, is now down more than 20% this year and nearly 30% below the all-time high it just set in August.
Related: Chipotle says sales will fall in the fourth quarter due to E. coli
Chipotle's stunning revelation came just a few hours after the CDC said that there are now 52 reported cases in nine states of E. coil since the outbreak was first discovered in late October.
Neither Chipotle nor the CDC has been able to determine what specific food is the cause of the disease. The CDC said that "a common meal item or ingredient served at Chipotle Mexican Grill restaurants in several states is a likely source of this outbreak."
Chipotle has vowed to take action.
The company said Friday it hired IEH Laboratories and Consulting Group, a food safety research firm, to help it find ways to improve practices at Chipotle's suppliers and restaurants.
One analyst said that it may not be easy to identify the source though. And it will cost a lot in the process. But Chipotle clearly has no choice but to spend as much as it needs to solve the problem.
"There must be something seriously wrong with the supply chain. The question is how expensive will it be to fix it," said Howard Penney, a managing director who follows consumer stocks for Hedgeye Risk Management.
And the damage to Chipotle's reputation may already be done.
"It's staggering. They have to get their act together and figure it out," Penney said.
Related: Will rivals benefit from Chipotle E. coli scare?
Some analysts had suggested last month that consumers may look to eat more at other fast casual restaurants, such as Jack in the Box (JACK)-owned Qdoba and Panera (PNRA), as a result of the E. coli concerns.
Ironically enough, Jack in the Box is infamous for being the source of the worst E. coli outbreak at a restaurant chain ever. More than 700 people were infected in late 1992 and early 1993 due to contaminated hamburger meat. Four children died.
Shares of Jack in the Box plunged as a result and did not get back to their pre-outrbreak levels until the spring of 1997.
Fortunately, none of the Chipotle E. coli cases have been as serious -- although 20 of the 52 people who became ill were hospitalized.
So any future hit to Chipotle's sales may depend on just how many more cases are reported. The company did indicate that sales have been extremely volatile in the past few weeks due to the media coverage of the outbreak.
Related: Chipotle sued by customer who says she got E. coli
BTIG analyst Peter Saleh wrote in a report Monday that "we do not believe there will be any longer-term impact to the brand or its customer appeal and expect Chipotle's growth trajectory to remain intact."
Saleh did slash his price target on the stock though because of the expected drop in sales and earnings for the next few months.
And Penney said consumers may now think twice about whether Chipotle's pricey burrito bowls are worth it.
"Chipotle's food is expensive. Will the company have pricing power anymore?" he said. "The brand has been hurt and it may not take months but years to recover."
But what do you say? Have you stopped eating at Chipotle due to E. coli concerns?
According to early results of my informal Twitter poll, 44% of the respondents said they are now avoiding Chipotle.