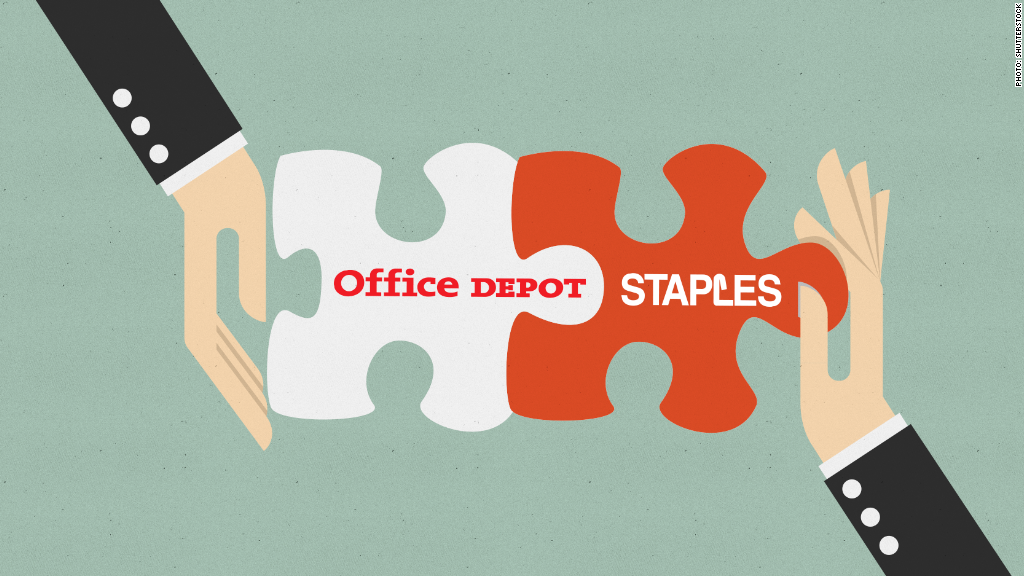 The U.S. government is once again taking an eraser to big merger plans between Staples and Office Depot.
The Federal Trade Commission announced a challenge on Monday to the $6.3 billion acquisition of Office Depot (ODP) by rival Staples (SPLS). The agency successfully blocked a merger of the two office suppliers back in 1997.
In the current action, the FTC argues that the Staples and Office Depot combination would violate antitrust laws by "significantly reducing competition nationwide."
It's a surprise move in some ways because Staples and Office Depot face intense competition from retail stores that are not traditional office suppliers like Amazon (AMZN) and Wal-Mart (WMT). The industry is also reeling from a decline in printing activities among young consumers, many of whom don't even own printers.
No wonder, profits at both Staples and Office Depot have shrunk in recent years. Last year, Staples announced plans to shut 225 stores in North America.
But the FTC isn't focused on competition over dwindling shoppers for office supplies. Instead, the agency pointed to the market for large business customers, where Staples and Office Depot are often the top two bidders.
"By eliminating competition between Staples and Office Depot, the transaction would lead to higher prices and reduced quality," the FTC said in a statement.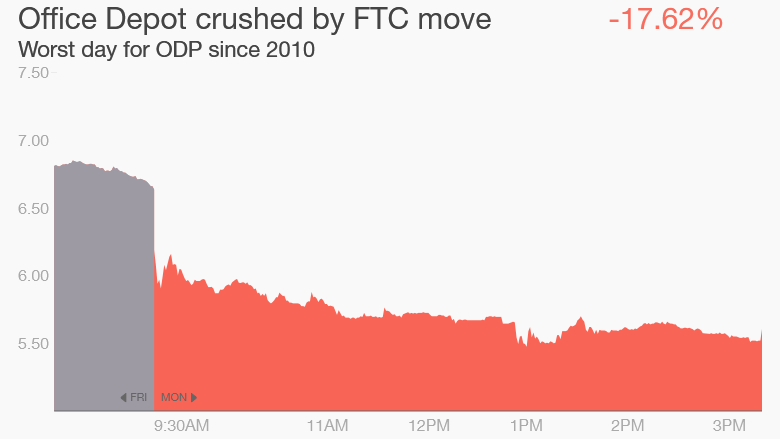 The action spooked investors. Office Depot shares plummeted 17% on Monday, the steepest one-day decline in over five years. Staples shares tumbled nearly 15%.
Staples and Office Depot blasted the efforts to unravel their deal, saying in a joint statement the FTC move is based on a "flawed analysis and misunderstanding of the intense competitive landscape." They point to the FTC's own decision in 2013 to approve Office Depot's acquisition of rival OfficeMax.
Staples and Office Depot said they plan to fight the FTC in court, where they look forward to an "impartial" judicial review.
The companies had hoped the merger would help create over $1 billion in annual savings.