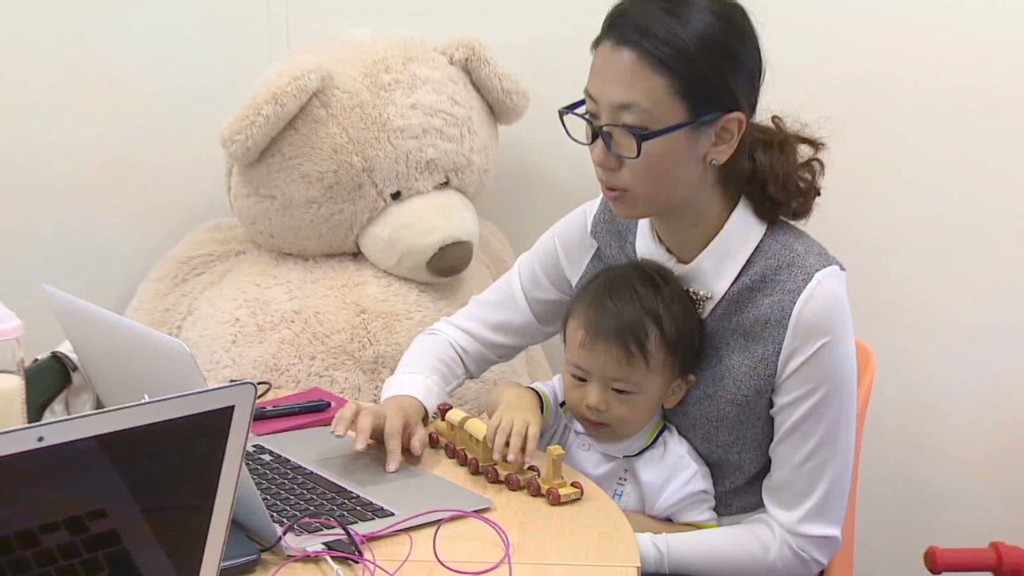 Japan is failing in its bid to hire more women to senior posts in government and business as a way of boosting the economy.
The government's gender equality bureau has downgraded the goal of hiring women in senior government jobs from 30% to 7% by 2020. The target for leadership positions in the private sector has been cut to 15%.
But even with the new targets, getting there is going to be a challenge.
Right now, only about 3.5% of senior government jobs are held by women. It may not sound like much, but it's taken over 10 years to get here. In 2003, when Japan first announced these goals, 1.6% of those posts were filled by women, according to the government.
The downgrade is the latest blow to Prime Minister Shinzo Abe's "womenomics" initiative -- a campaign to support more Japanese women in the workplace to jump start the world's third-largest economy.
Both the government and outside experts have applauded the idea, as Japan is struggling to fight recession, faces a labor shortage and a fast-aging population.
Related: Women hold key to fixing Japan's economy
There is plenty of room for growth: roughly 65% of Japan's women are working, which is one of the lowest rates among developed nations. Closing Japan's gender employment gap would add an estimated 7.1 million employees to the workforce and lift gross domestic product by as much as 13%, according to Kathy Matsui of Goldman Sachs.
But experts say the problem has been exacerbated by a lack of childcare, and the failure of companies to hire, train and promote women into senior management.
Even with monetary incentives, companies appear to be reluctant to support women. One government program that offered a subsidy to companies for promoting women into senior positions had zero applications as of September. Since then, at least one firm has applied, but that's still a far cry from the 400 that were expected to apply.
Things may take a turn as new legislation takes effect next April, mandating large companies, as well as the government, to set and disclose numerical targets for hiring and promoting women.