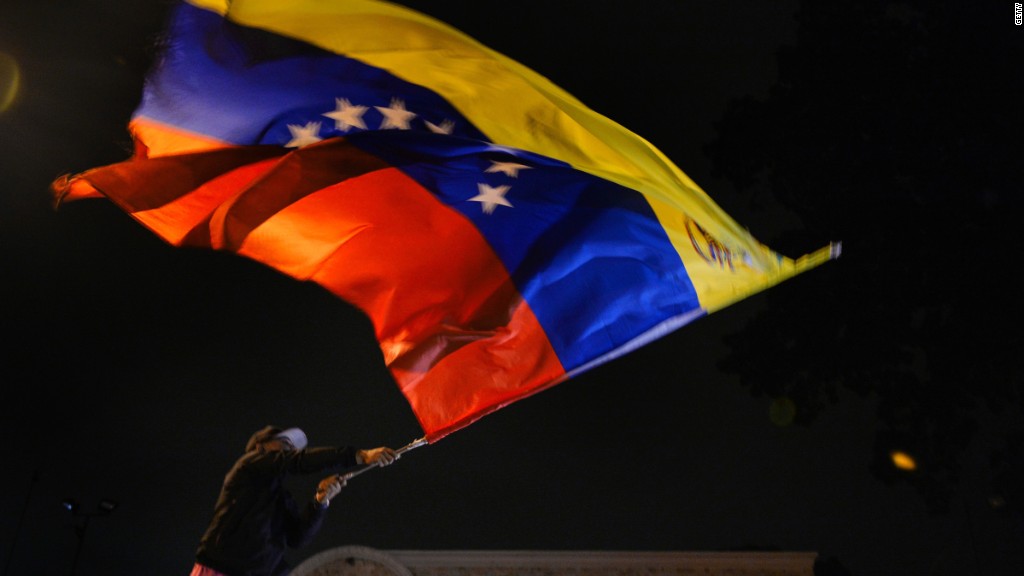 Venezuela is the world's worst economy this year.
But Venezuelans voted for change Sunday, offering the best hope for a turnaround in 16 years.
The country's broad opposition party, Democratic Unity, won a majority of seats in Congress. The vote was a huge blow to President Nicolas Maduro and his United Socialist Party of Venezuela.
It's one of the biggest wins for the opposition party since Maduro's predecessor, the late Hugo Chavez, began his rule in 1999.
Venezuela's economy has tanked -- it's expected to shrink 10% this year. Inflation has risen 159% and it's expected to rise 204% next year, according to IMF. Its currency, the bolivar, is worth less than a penny on the black market exchange rate, after having lost 81% of its value against the dollar this year.
Maduro's government can't pay for basic imports like diapers and flour. That leaves many Venezuelans waiting in line for several hours outside grocery stores with empty shelves. The unemployment rate is expected to be 14% this year and 18% next, according to the IMF. In 2014 it was 7.9%.
Related: Venezuela is running out of cash, selling gold
The Democratic Unity's victory could be the change that Venezuela needs to turn its economy around. It won 99 seats compared to the 46 seats won by ruling party. There are still 22 undetermined seats because the voting was still being tallied Monday morning.
The results of that tally are huge, expert say. If Democratic Unity wins 13 of the remaining 22 seats, it will have a two-thirds majority in Congress. That would allow it to change the constitution and allocate power towards Venezuela's National Assembly and away from Maduro, who holds lots of executive power.
"This would be a game changer," says Edward Glossop, emerging markets economist at Capital Economics, a research firm.
Even if Democratic Unity only wins 2 of the remaining 22 seats, it would have enough votes to fire Maduro's ministers. Still, Maduro would have executive veto power and could thwart attempts to unwind his economic policies and social welfare programs.
It's unclear what the opposition's policies are and how they might change the economy. Democratic Unity is a fragmented coalition of several smaller political parties.
The party hasn't laid out any specific plans for the economy other than saying that it plans on changing the constitution and "achieving a productive society." Democratic Unity didn't respond to CNNMoney's inquiry into its economic agenda.
However, Sunday's vote was a clear rejection of Maduro, who acknowledged defeat Sunday night.
Related: 5 reasons Venezuela is the world's worst economy
Change is in the air in the region. Venezuela's elections Sunday are the latest sign that the tide is turning against populism in Latin America.
Argentina has suffered many of Venezuela's economic problems, like rapid inflation, though to a lesser degree. In November Argentines voted for Mauricio Macri, who promised to undo policies from the populist regime of President Cristina Fernandez de Kirchner.
And just last week, a Brazilian congressional leader, Eduardo Cunha, announced a bid to impeach President Dilma Rousseff who has also pursued a populist agenda. Brazil's economy is in the midst of its longest recession since the 1930s.
Some on Wall Street cheered Sunday's results in Venezuela.
"I want to give a shout out to the Venezuelan people for finally throwing out most of the bums that have destroyed their economy," says Peter Boockvar, managing director at the Lindsey Group, an advisory firm.