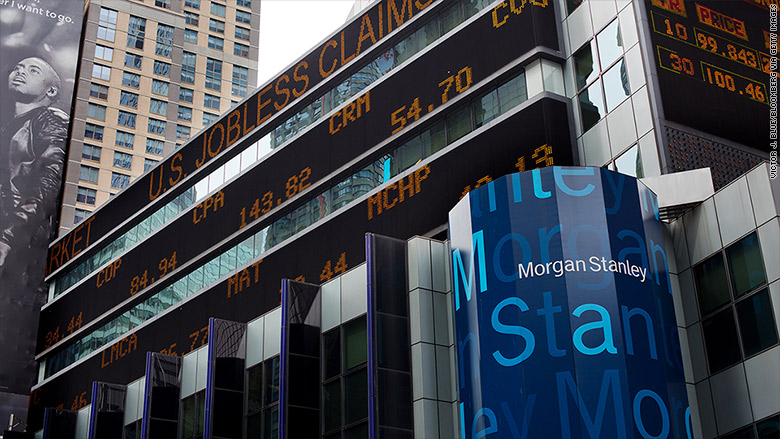 It's a depressing time to be a trader on Wall Street.
Struggling Morgan Stanley (MS) slashed 1,200 jobs around the world in recent days, a person familiar with the matter told CNNMoney.
The cuts were broad-based and eliminated 25% of the positions within the fixed income and commodities businesses, the person said. Those divisions are grappling with tumbling trading revenue and shrinking fees.
Morgan Stanley also eliminated about 730 back-office jobs like human-resources and IT positions.
The moves will result in businesses that are "critically and credibly sized for the current market," Morgan Stanley executives told employees in a memo on Tuesday.
Wall Street firms have been hit by a slowdown in client activity and trading revenue that took root during the market mayhem of last summer.
Morgan Stanley has been particularly hurt by the new environment. The firm alarmed investors by disclosing a 42% plunge in fixed-income trading revenue in the third quarter. Morgan Stanley's shares have slumped 12% so far this year, compared with smaller declines for rivals Goldman Sachs (GS)and Bank of America (BAC). Shares of JPMorgan Chase (JPM) are actually up 6% in 2015.
Parts of Morgan Stanley's business are holding up better than fixed income. For example, the firm posted a jump in advisory revenue last quarter thanks to strong mergers and acquisitions (M&A) activity.
Related: 4 years after Occupy Wall Street, big banks are hurting
Nonetheless, the job cuts suggest Morgan Stanley isn't expecting an immediate rebound.
"The outlook is not great," Colm Kelleher, CEO of Morgan Stanley International, told analysts at a recent conference.
Kelleher repeatedly referred to "subdued" capital markets activity around the world and said Morgan Stanley's fixed-income performance is unlikely to improve much following a "very weak" third quarter.
A Morgan Stanley spokesman said the bank plans to take a $150 million charge in the fourth quarter to cover one-time expenses, including benefits and severance payments. Cost savings are expected to exceed that charge.