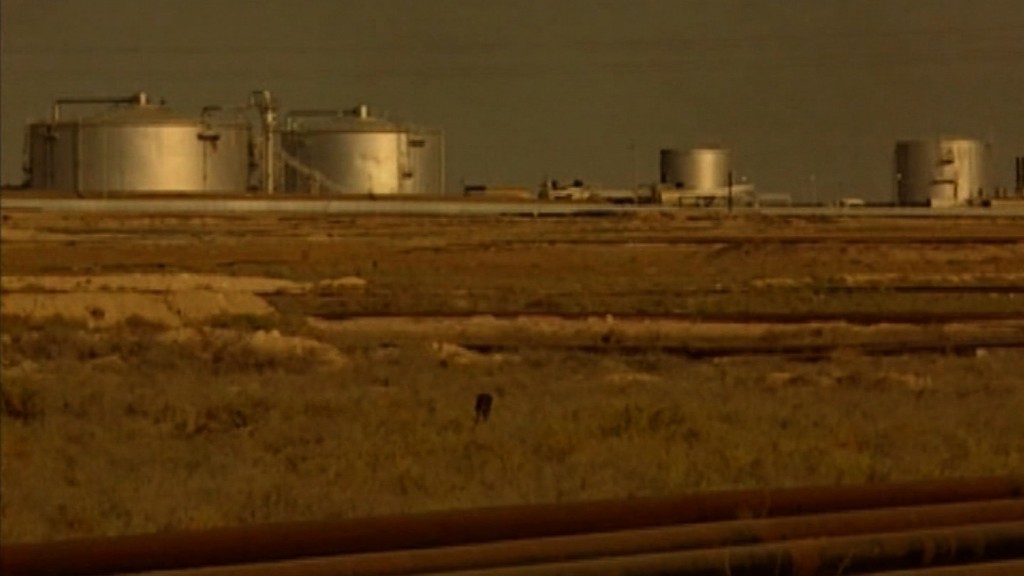 Crude oil keeps crashing.
Oil collapsed below $37 a barrel on Tuesday for the first time since the depths of the Great Recession in February 2009.
A massive supply glut has wiped out two-thirds of oil's value after it peaked at nearly $108 a barrel in June 2014.
The latest oil plunge is rocking the stock market, with shares of Big Oil companies like ExxonMobil (XOM) and Chevron (CVX) retreating further in recent days.
The Dow fell as much as 245 points on Tuesday, with the slumping energy sector leading the way lower. Oil fell as low as $36.64 a barrel, but it bounced off those levels and settled at $37.51.
"My head is spinning from the past few days of declines. Sentiment is horrible. It's very bearish," said Mike Wittner, global head of oil research at Societe Generale.
These moves come after last week's decision by OPEC not to cut oil output following a contentious six-hour meeting. The oil cartel essentially left production near record highs despite the oversupply problem.
Related: Defaults soar to recession levels, fueled by cheap oil
OPEC is gripped by a deep divide between two factions, one led by the top oil producing nation Saudi Arabia and its rich allies in the Gulf that can stomach cheap oil and another led by Nigeria, Venezuela and other countries that need higher prices to boost their economies.
But with Saudi Arabia firmly in control of decision making, a near-term oil recovery doesn't seem likely.
Oil's crash began last year as the American shale oil boom flooded the market with excess supply. Inventories of oil have swelled to a record of nearly 3 billion barrels, according to the International Energy Agency.
Related: Mining giant slashing 85,000 jobs
Rather than cut supply to boost prices, OPEC has been aggressively pumping oil in an effort to steal back market share.
U.S. production remains near record-highs, though it has backed off in recent months.
Oil prices haven't been helped by the so-so economic environment around the world. The U.S. economy is enjoying just a modest recovery from the Great Recession and many other parts of the world -- especially China -- are slowing down.
All of this is great news for American drivers. Gasoline prices could soon tumble below $2 a gallon for the first time since 2009. The average gallon of gas is currently fetching $2.03, down from $2.68 a year ago, according to AAA.