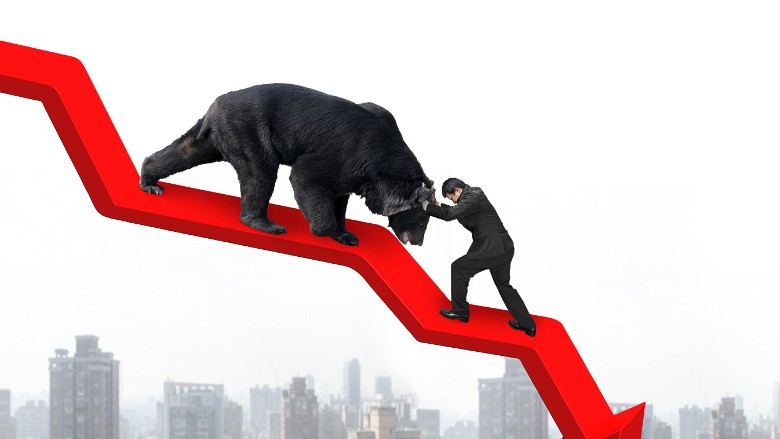 A prominent investor is warning that markets are in terrible shape right now.
U.S. stocks are "whistling through the graveyard," according to Jeffrey Gundlach. He's the founder of Doubleline Capital, which manages over $70 billion in assets.
"There are plenty of markets that are falling apart and freaking out," said Gundlach Tuesday afternoon on his monthly webcast.
While stocks are moving sideways, the bond market is in trouble, he argues. Junk bonds are at their lowest point in six years and leveraged loans are tanking.
On top of that, emerging market equities are down close to 30% since September 2014.
Then there's commodities. Oil hit a 7-year low this week and copper and lumber look anemic too.
Despite all of these warning signs, the Federal Reserve is very likely to raise interest rates when it meets next week. Almost 100% of economists now believe the Fed will hike rates, according to market surveys.
Related: Stocks sink again as fear returns
The Federal Reserve is about to make a mistake
Gundlach called Fed action "unthinkable" given where many parts of the market are right now.
He predicts the Fed will raise rates now and regret it. The central bank of New Zealand tried to raise rates twice only to have to lower them soon after. Gundlach thinks that is highly likely for the United States.
Fed chair Janet Yellen and other central bank officials have been stressing in recent speeches that they will move "gradually" to raise interest rates.
Related: Why the Fed will raise rates...in 5 charts
But Gundlach says their talk doesn't match reality. The Fed's own projections -- the so-called "Dot plot" -- shows interest rates will be about 1.38% in a year. That's a big increase from the near zero rates the U.S. has today.
"They are not talking about 'gradual' in the Dots," says Gundlach.
As many investors know, it's a tough environment. There aren't many bargains out there and Gundlach calls the Fed a "steamroller" that is about to come through and change the game.
"It's getting harder and harder to make money," he says.
Gundlach manages the DoubleLine Total Return Bond Fund. It has a 5-star rating from investment research firm Morningstar and is one of the top performers among bond funds this year.